my children's seize quartiers: quarter 5: Tucker
Benjamin Franklin9 Tucker (1873-1947) (John Franklin8, Benjamin7, Daniel6-5, William4-3, John2, William1) of Gloucester, MA. Descendant of William1 Tucker (d. 1666), an early settler of the Isles of Shoals; and of many, many other lines of Essex County mariners and farmers.
The notable demise of William1 Tucker:
"June 5, 1666, one Tucker, a tailor, who belonged to the Isles of Shoals, being then at the point in the Piscataqua River, was so drunk in the Lecture time, that, pulling off his clothes, he ran into the water, cursing and swearing, and was drowned."

– Rev. William Hubbard, A general history of New England, from the discovery to MDCLXXX, 2d ed., 2 vols. (Collections of the Massachusetts Historical Society, 2d ser., v. 5-6, Boston, 1848), 2:646.
Benjamin Franklin9 Tucker with his bulldog, Beauty, probably 1930s: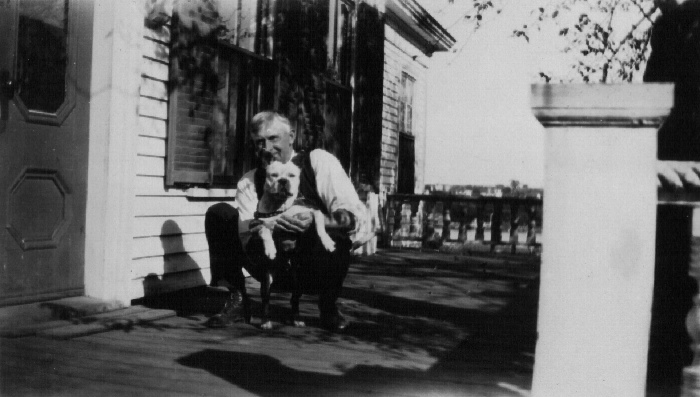 Benjamin Franklin9 Tucker and his wife Nellie Mae Lane with their seven children in 1908. Their oldest child, Carle Thornton10 Tucker, my grandfather, is second from right: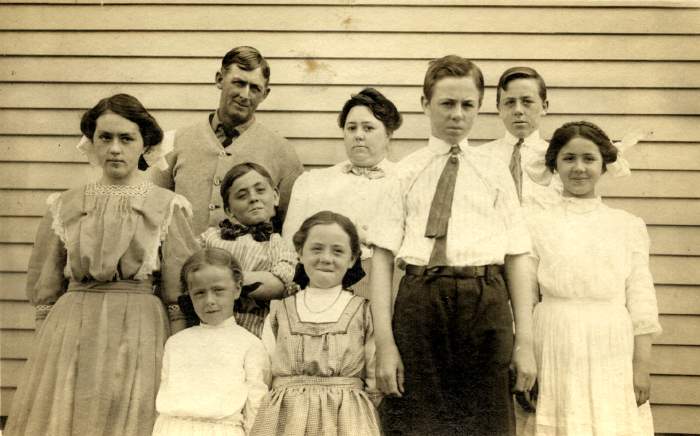 ---
Uncle Osman9 Tucker of Gloucester, Massachusetts, and his dory, circa 1900: glass-plate photograph by Cape Ann photographer Alice M. Curtis:

The negative of this photo is held by and copyright to Frederick Bodin of Bodin Historic Photo, Gloucester. See the image here on his website, where one can purchase prints.
---
this page — with all local text and images appearing or linked here — copyright © 2006 Nathaniel Lane Taylor: rev 09/12/2007