my children's seize quartiers: quarter 10: Nye
Mary Lillian (later Mary Stapleton) Nye (1882-1965) of Somerville and Wellesley, MA. Descendant of Benjamin Nye, who immigrated in 1637 and settled in Sandwich (Cape Cod), Massachusetts; and from many other eastern and central Massachusetts families. Her mother, Cora Emma Stapleton, was born in Arkansas of an English immigrant father (De Vere Stapleton) and a Virginian mother (Mary Williamson, of Bedford County, Virginia).
Here is a four-generation photograph taken maybe in 1917 when Joseph R. Scott (Sr.) was a boy. From left, his mother Mary (Nye) Scott; his grandmother Cora (Stapleton) Nye (with boy in her lap); and her grandmother Mary Jane (Boardman) Nye. I wish I could ask Cora more about her parents. For that matter, Mary Jane looks like a fabulous conversationalist too. They look grimly satisfied with their progeny.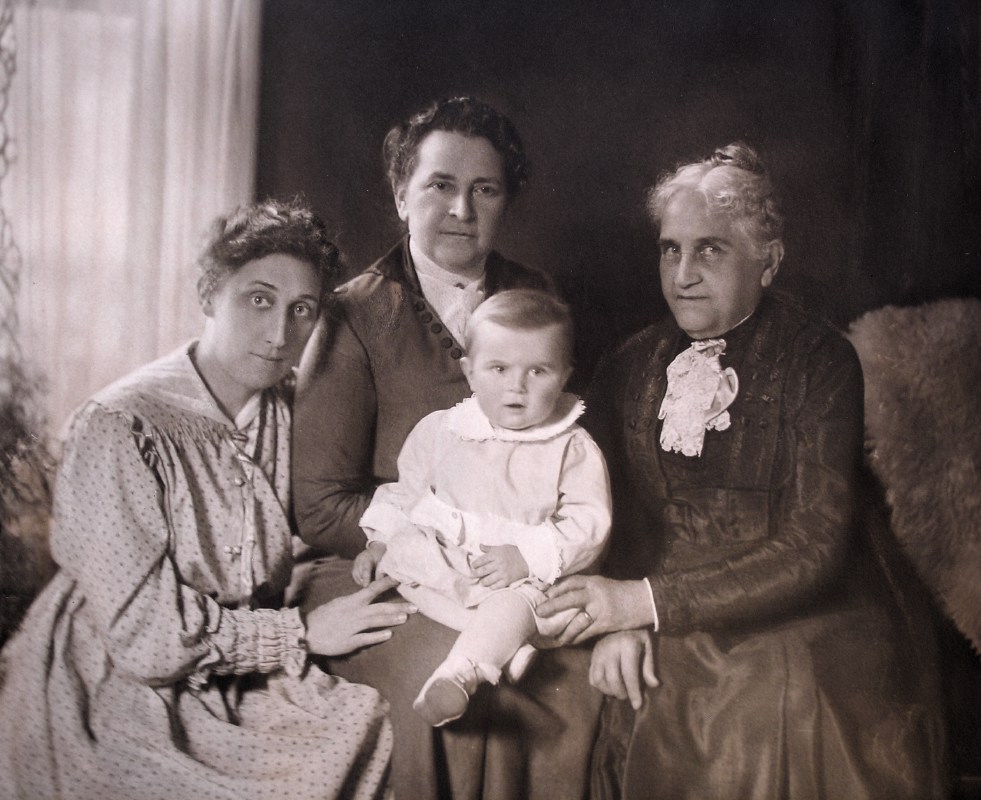 ---
• David C. Nye (1805-1870): lot 2913 of Mount Auburn Cemetery, Cambridge, Massachusetts

• blog entry with photograph of the Nye plot, Mount Auburn Cemetery

• Williamson & Bowles of Bedford County, Virginia: genealogical summary
---
this page — with all local text and images appearing or linked here — copyright © 2006 Nathaniel Lane Taylor: rev 11/09/2008