Trolling through hymns while recently masquerading as a substitute organist, I noticed an interesting setting of the melody of the Agincourt carol in the Hymnal 1982 of the Episcopal Church(*), which sent me scurrying back to the edition in William Chappell's Early English Popular Music (1893). And that sent me to MS Arch. Selden B.26 at the Bodleian Library (one of two original 15th-century manuscripts of it), which I discovered was digitized at Early Manuscripts at Oxford: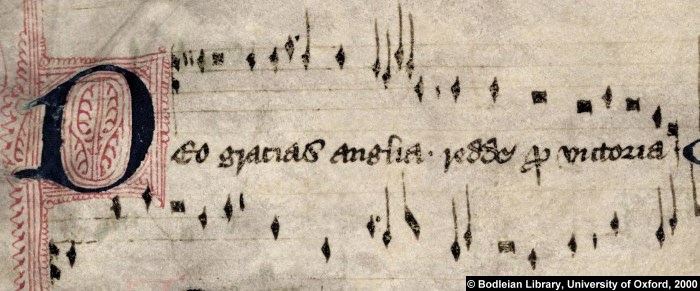 Here is the first page, at full resolution; here is the second page (these are over 3MB each).
Everyone with an ancestor at the Battle of Agincourt should know this song. There is an excellent modern transcription and brand-new musicological commentary by Helen Deming, "The sources and origin of the 'Agincourt Carol'," Early Music 35 (2007), 23-36 (unfortunately she focuses on its context within the Trinity Carol Roll at Cambridge—the other manuscript); there is also a perfectly serviceable text and transcription in William Chappell's Early English Popular Music, ed. H. Ellis Wooldridge (London & New York, 1893), pp. 25-29, of which I've made a singable 2-page pdf here (tenor, treble & baritone can do it quite nicely).
[* actually there are two, no. 449, a pedestrian modernization from the 1950 Hymns Ancient and Modern, and the interesting one, no. 218, harmonized by Richard Proulx, "based on E. Power Biggs." I'd like to know what Biggs did with it, and whether there's a recording of it.]