The problem of the fireplace stink came alongside other aesthetic and practical questions as we renovate. The fireplace is truly an enigma. I've already commented on the enigma of the two baking ovens. Our architect has measured and sketched the chimney system, and believes the original kitchen fireplace would have opened for the full eight-foot span of the chimney mass, with the original baking oven opening in the exact center of the firebox. At some point the right side of the firebox was boxed in and rebuilt to include the second baking oven and storage box below; both ovens are intact, and their backs can be seen from inside the smoking chamber. Here's the system as sketched by our architect, Lombard John Pozzi of Bristol, Rhode Island: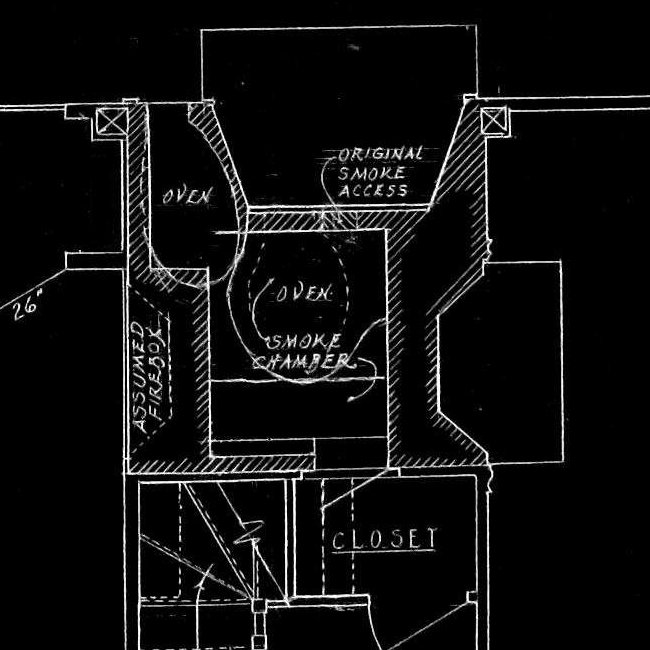 When we bought the house the kitchen had a big paneled fireplace surround: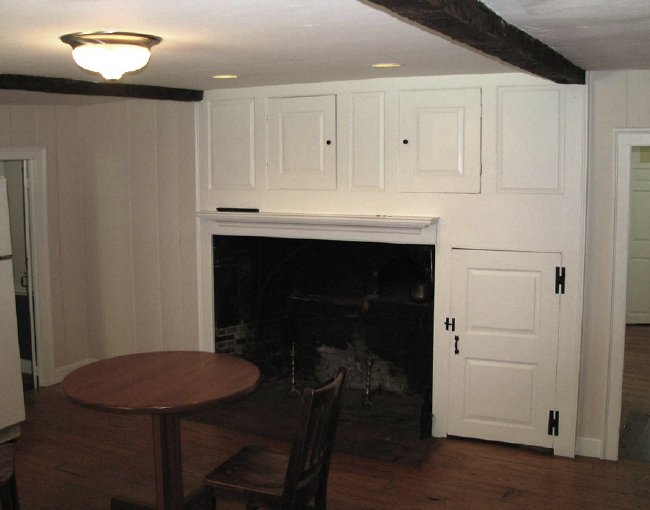 The big door at right hid the second baking oven and storage box; of the doors above, the one of the left opened into a parson's cupboard, but the one at right opened onto a blank brick wall. Some of the woodwork seemed authentic Georgian, but some obviously not. We realized that none of this was original to the house, though, since the 1952 Providence Journal article on the house showed a very different, plainer kitchen fireplace, noting that it had long been boarded up: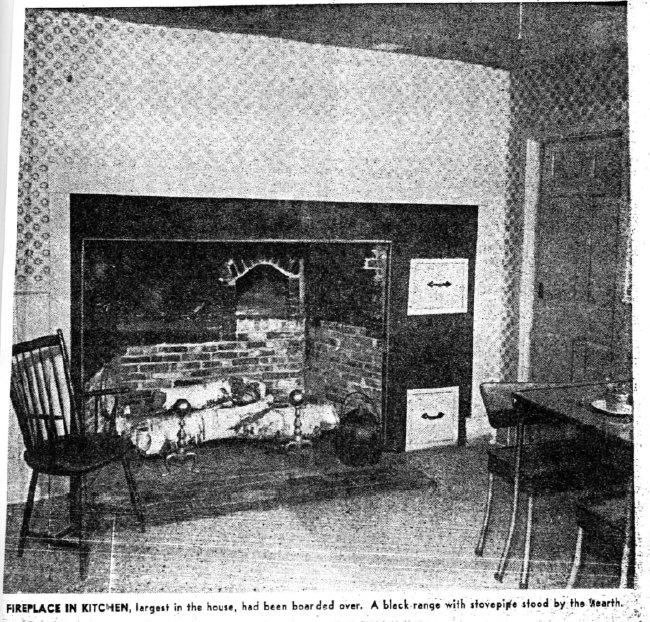 Since the paneled woodwork, which postdated 1952, started well above the original floor level, we decided to pull it out and start over. Here is the revealed brickwork of the chimney mass, showing a dirt depression where the hearth and firebox floor will have to be relaid. The previous surround, disassembled, is at left: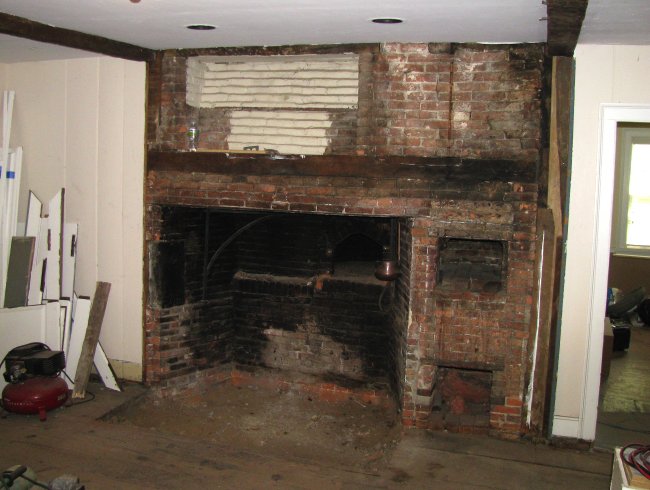 So how should the fireplace be trimmed? Something, I think, between the plain version of 1952 and the post-1952 paneled surround. First off is to restore the firebox floor and hearth, and then to refinish the ceiling (we're going to leave the faux hewn beams in, but box them, in keeping with the original elegant, single-bead boxing of all real structural timbers in the house.The beams serve a purpose, to marry some very different ceiling levels and materials, since the ceiling is not and could never be level). Then we'll see what would look good, remaining honest to the double ovens and off-center parson's cupboard.