This week the attic floor has finally been relaid — a big swath of it having been torn up weeks ago to run plumbing vent lines through the floor.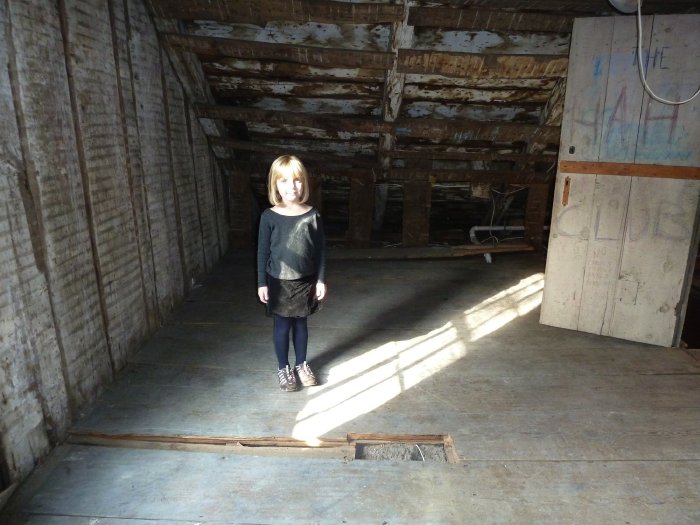 This is a vast expanse of untouched hand-planed 18th-century pine floor, nominally 1100 square feet (minus the chimney in the middle) — never sanded, never oiled. This west end, where the floor had been taken up, was the garret laid out to the use of widow Allin in 1802; the plank walls and ceiling were carefully whitewashed (the ghosting of later lath on the gable-end wall at left and the horizontal furring under the rafters behind Amelia is quite striking). This garrett could also be called the 'Hah Club', as that is what the Hoseason girls dubbed it in the late 1970s, as you can see from the crayon graffiti on the board-and-batten door beside Amelia. This picture celebrates the 'Hah Club' and the restoration of the beautiful floor!
Contrast the same view two weeks ago, when the "Hah" door seemed to be mocking us for the devastation to the floor: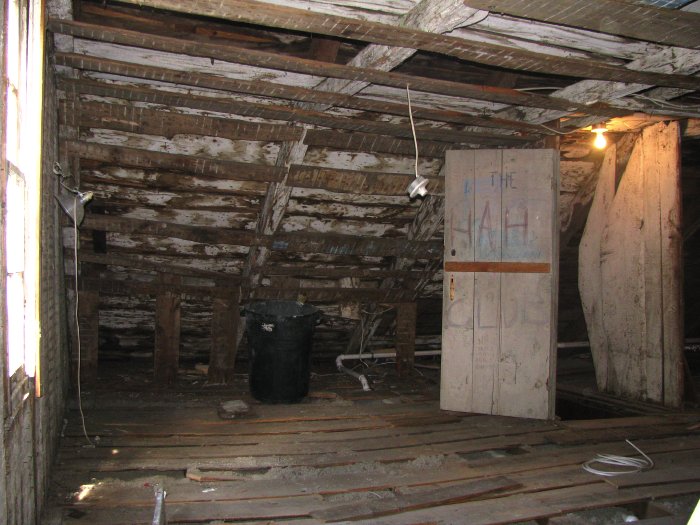 And before that, the macabre and claustrophobic plaster walls and ceiling before they made their exit: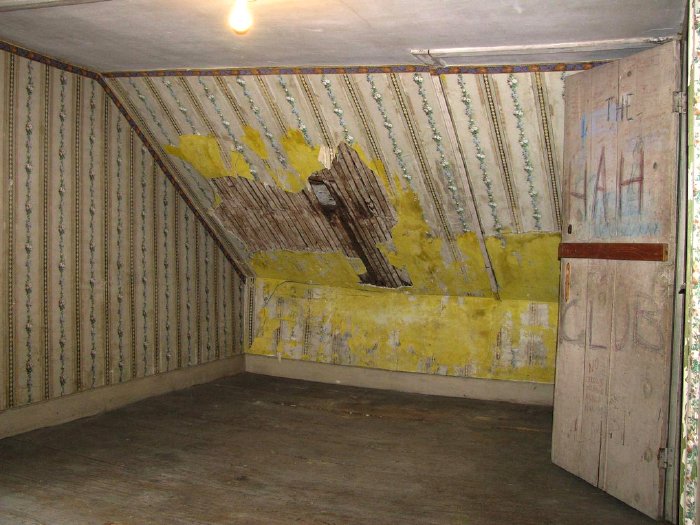 On the floor by Amelia's feet (back in the top picture), there was a square hole cut into the floor, aligning with an interesting yoke attached to a collar-tie overhead, exposed only once the low plaster ceiling below the collar ties came down. (The floor plank split west of the square hole but will hopefully be restored). Our builder, Bob Major, believes that there was some sort of shaft coming up through the floor and seated in the yoke in the collar tie. We haven't a clue what it would have been for: perhaps as a way for the lady of the house, in the chamber below, to communicate with her maid above? I should upload a photo of the yoke and solicit ideas.