The second of a meager set of exterior photos dating back to 1898.
Jump to the other photos: 1898 | mid 1930s | late 1930s | 1952 | c. 1980 | 1992 | 2010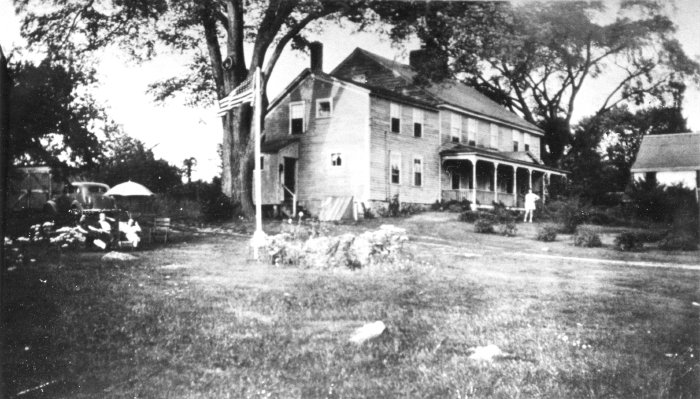 From the mid or later 1930s (see car); this came as a framed print with the house. Subjects are either Brazees (rented the west wing) or Cordeiro/Lambs (owned the house). Note the west addition now has a raised southern roofline whose asymmetry can be seen from the west side. The facade has a long porch stretching the length of the original house, which may have been built that way before the two halves of the house were reunited under single ownership in 1924 (the house would continue to be occupied by two families until 1950). The shed-roofed porch over the entry door on the west side does not appear to have been present in the 1898 photo; the basement bulkhead entry next to it has long been walled up: possibly there was no doorway cut through the original west foundation wall until the west bulkhead was walled up. The house visible on the right side of the photo was built in 1927.