At the request of a correspondent on rec.heraldry I am posting something interesting here. It purports to be a copy of charter of King James VI & I, dated 16 July 1616, which attests the noble ancestry and good character of an expatriate Scotsman, Captain Daniel Hepburn, "legitimate son of the late Alexander Hepburn," resident at that time in the duchy of Stettin – Pomerania (the document is addressed partly to Phillip II, Duke of Stettin & Pomerania from 1606 to 1618). Hepburn having been the subject of calumnies against his ancestry, King James wishes all to know that quondam Alexandrum Hepburnum ex legitimo matrimonio et generosis parentibus ortum fuisse, et ex nobilibus familiis tam a paterno quam materno genere descendisse. The document goes on to specify that Alexander Hepburn was son of one John Hepburn, virum vere nobilem et bonarum omnium artium studiosum, and that John Hepburn was 'nepos' of the late Patrick Hepburn, Earl of Bothwell, Lord of Hailes, and Admiral of Scotland. [Right-click on this cap of page 1 to download whole document as a pdf.]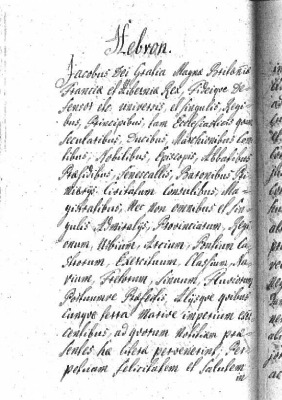 Such documents were not used within England or Scotland. Neither the English heralds nor Lyon were ever in the business of affirming (or requiring) 'nobility,' let alone by both paternal and maternal lines. Recently on soc.genealogy.medieval we discussed the 18th-century pedigree and proof of nobility allegedly prepared by the Ulster King of Arms for the father of the first Conde de Clonard in Spain, who came from a minor gentry family of Sutton in County Wexford—this document was alleged to show male-line descent from the baronial Sutton Dudleys, which is apparently false—though the erroneousness of the descent does not necessarily refute the authenticity of the Ulster document.
Similarly, this present alleged Pomeranian Hepburn branch is not found at least in the Scots Peerage, and at least not as near kin or descendants of Patrick Hepburn, 3d Earl of Bothwell, who d. 1556 (SP 2:156-61); however there were a great many more distant male-line Hepburn kin in the 16th century who are not well traced in SP and this John – Alexander – Daniel branch could well belong among them. The truth or falsehood of the descent is irrelevant to the question of the authenticity of the diploma, though a false descent makes it more presumptively suspicious.
I have no experience with authentic proofs of nobility which may have been prepared either by British monarchs or by the heralds or Lord Lyon. The circumstances for the authentic creation of such documents must have been very slim and specific indeed. One can imagine an ambassadorial context in which a monarch might take the trouble to satisfy some other kingdom's customary concerns over noble extraction for a subject living abroad to be accepted in court or chivalric circles—but one cannot expect this to have been common practice at any point. I would greatly appreciate any references to, or samples of, any similar documents (either authentic or suspect), from the 17th or 18th centuries, or (if any might exist) from earlier.
This document was provided by a correspondent on rec.heraldry, apparently from a notarial register in the Landesarchiv Greifswald. Apparently the descendants of this Alexander Hepburn Germanized the surname to 'Hebron' (I have no other information on descendants of this family). The document purports to be a true copy of the sealed original by Johannes Gravius, secretary to the kingdom of Pomerania, but the date of his copy is not indicated and I am unable to find out anything about him online. I also cannot read the small annotation below Gravius' attestation. The copy as written here is likely at least one generation removed from Gravius' copy.