Here's something that seems to have flown under the radar.
A 1993 book, Historical and Architectural Resources of Barrington, Rhode Island, reproduced two fine old maps, from 1851 and 1870, demonstrating the growth of this town, especially since a railway station was put in at West Barrington in 1868 and development of farmland into bayside summer colonies began. Those maps show the location of houses, but no property parcel divisions, in what was in 1851 still a town of farms. Thumbing in the library through Thomas Bicknell's Historical Address and Poem and Delivered at the Centennial Celebration of the Incorporation of the Town of Barrington (Providence, 1870) brought me to a map — very faint and faded — that I had not seen before, showing Barrington in 1866, and most importantly, showing parcel lines instead of structures. Turns out the people at the Preservation Society had not been aware of this map either, sitting quietly on the shelves upstairs at the library. Perhaps the map has escaped notice because it is so faint: a digitized copy of the book available via Yale has only blank pages where the map should be, suggesting the automated scanner ignored its faint lines entirely. There does not seem to be an original around anywhere, either among the Preservation Society papers or the Town Hall deeds & plats collection, so I'd like to scan the printed version and digitally clean it.
Here's a first effort in that direction, from the circulating copy of the book, which unfortunately had the map sliced in half and rebound with loss of a considerable strip across the center of town (there is another, uncirculating, copy of this map in its original uncut fold-out form, which hopefully can be reproduced more clearly). Click on each image (North and South halves) to load a large-format (600dpi) grayscale jpg in a new window.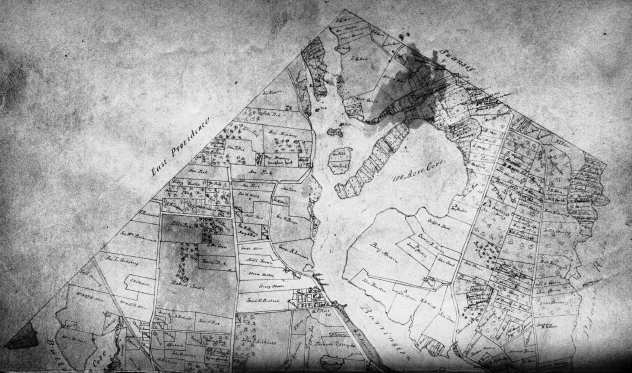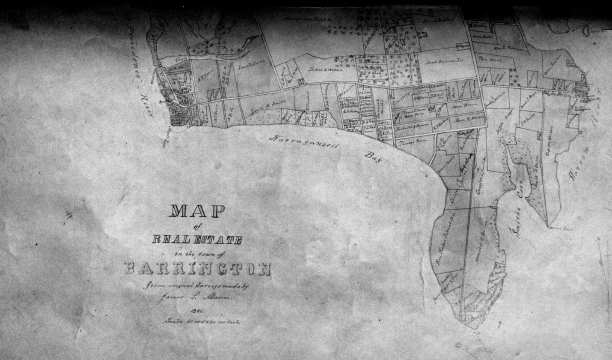 As a contrast, here's the 1870 Beer's Atlas map (again, click for hi-res):