The Conde de Clonard has penned a predictable response to an earlier entry in my blog in which I made note of his fascinatingly absurd genealogical claims. The best part of his reply is that it includes a photograph of the illuminated pedigree prepared by the Ulster King of Arms in 1764 for his ancestor Redmond Sutton. Scroll down his page to find it; or (lest it disappear), I have linked a copy here (click for the full-size image as found on Clonard's website):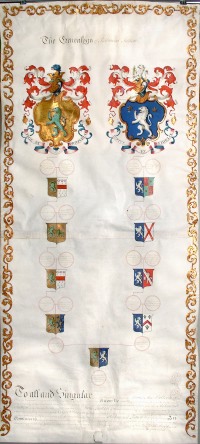 The resolution of the photograph almost permits us to read the text, but not quite. The document is certainly handsome, and the text looks like a nice letter of introduction, attesting the nobility of the subject's paternal and maternal ancestries—a concept unnecessary in Britain but found when such documents are provided for British subjects living abroad. It is certainly authentic, as a physical document. Of course it does nothing to support Clonard's claim to a UK earldom of Clonard as no such thing ever existed. If indeed the document states a descent from the baronial Sutton Dudleys (as the undifferenced arms imply), it is of course extremely interesting but as I've said earlier, such a descent is almost certainly false as it contradicts known information on the baronial Sutton Dudley family. The question is whether the claim originated with this particular Ulster King of Arms, or whether it can be documented in any earlier genealogical sources on the Wexford Suttons.
Even leaving aside the absolute nuttiness of Clonard's genealogical fantasies, nothing surprises me about the tone of the Conde's response (or non-response) to my summary and criticisms of his ideas. He is (in part) a product of his culture. Genealogy, as a discipline, in Iberia has not shed the tropes of ritual boasting, of honor-which-must-be-defended, with which it first emerged in the thirteenth century with romantic texts like the Livros velhos de linhagens of Portugual–the oldest nobiliaries in all of Europe. Spain's early modern obsession with limpieza de sangre was fueled by the danger posed by the Holy Office for those with genealogical flaws; a palpable overtone of desperation was added to traditional boasts of noble descent. It is curious that these lands, with the oldest genealogical historiography in Europe, still lag so far behind other places like Germany, Britain, and even France in the development of scholarly genealogy as an objective discipline. The 20th-century American genealogist Milton Rubincam wrote a "Critique of Spanish Genealogy" as a commentary on his investigations into the ancestry of Sancha de Ayala (in Studies in Genealogy and Family History in Tribute to Charles Evans on the Occasion of His Eightieth Birthday, ed. Lindsay L. Brook [Salt Lake City, 1989], 263-271). Echoes of the attitudes that amused and frustrated Mr. Rubincam are certainly found in the writings of the Conde de Clonard.