OK, so Julie has had them for years now: Connecticut ancestors. And it seems like every other New Englander with whom I perform the parlor trick of finding common ancestors has them too. But until now, I have not had any — my New England ancestors all lived north of Boston. My single solitary Connecticut ancestor has been a cheat: Great-Migration colonist Andrew Lester or Lister of Gloucester, who migrated to Connecticut, leaving some children settling in each place. Julie descends from one of the CT children, I from one of the Gloucester ones.
But now something new has come up, the identification of a Nova Scotia loyalist in my family tree, Isaac Andrews, whose granddaughter came to Gloucester in the nineteenth century, as a member of a specific Connecticut family. I recently pulled up the 2009 revised edition of A. C. Jost's Guysborough Sketches and Essays, and saw that it supplied information which had not been in the 1950 original edition: it identified Isaac Andrews as the man of that name who was son of Elon and Sarah (—) Andrews of Wallingford, Connecticut! But the revised Jost doesn't show what the evidence is to make that identification. Was it a guess, or is there documentation showing it? I rather suspect there's something clear-cut that shows it but don't want to reinvent the wheel to seek it. The most efficient thing is to find out who is responsible for the revisions to Jost and work from there (there is no independent editor credited, but the book is substantially updated from the 1950 1st ed., and Mr. Jost himself must have been deceased for 40 years or so). Before taking that step, tracing out my newfound Connecticut ancestors may be a wasted chore. But I'll admit that hasn't stopped me from snooping among them already…
UPDATE, 18 October 2011: I went through the Guysborough (Nova Scotia) Historical Society to get hold of the editor of the 2009 revision of Jost. And now, courtesy of the Guysborough Historical Society, I have a citation to a deed of 21 April 1800 in which Isaac Andrews of Manchester, Nova Scotia (across the harbor from Guysborough) sold land in Wallingford inherited from his father, Elon Andrews: so I may now with confidence trace my newfound ancestors in Ancient New Haven. For example, I have already found confirmation (while many sources show her surname as unknown) that Sarah, wife of Elon Andrews of Wallingford, was the daughter of Caleb Beach of Winchester (Caleb's will names her as wife of 'Elon Andros'; see Annals and Family Records of Winchester, Connecticut [Hartford, 1873], 32-33). Always happy to have more Calebs in the family tree. And here, I found online, is his house, falling down circa 1910: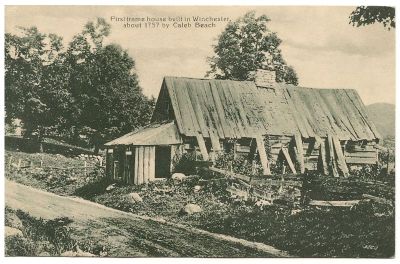 It actually did fall down soon thereafter, since the WPA guide for Connecticut (early 1930s) mentions it as just a chimney…
The is the second most exciting thing that has happened to me, genealogically, this month. I'm waiting a bit, before posting on the most exciting thing.