Many who find me online do so because of one long-term project, a genealogy of my male-line kin, the descendants of Richard Taylor, a planter in the Northern Neck of Virginia ('Old Rappahannock' County, subsequently Richmond County, Virginia) who died in 1679. My work on this Taylor family started out as an article-length manuscript in 1992 and has since blossomed to book length, currently 180 pages. It traces seven generations of male-line Taylor descendants (I myself am in the eleventh generation, so I'm not in the book except in a footnote). The book currently has this title:
An American Taylor Family: Descendants of Richard Taylor (d. 1679) of North Farnham Parish in the Northern Neck of Virginia for Seven Generations

I hear from kin of this family at the rate of two or three new contacts every month, and it is most gratifying to have people share corrections, new vital data, or (best of all) written reminiscences, biographical sketches, or photographs: the book is growing (and the e-book growing in file size) with photographs as I receive, edit, and include them. [Perhaps I should lay out a separate online portrait gallery of these Taylors in the first to seventh generations, since some of the pictures, all from before 1900 or thereabouts, are spectacular in themselves. Since the book with pictures has now broken the 10 MB size barrier, I definitely need to downsample the pictures in the book itself (I should get it below, say, 5 MB) and upload a corresponding, separate high-quality portrait gallery.]
Anyhow, this month brought me a new sort of contact: a manuscript dealer who has offered (and has now sold) me a colonial document from this family, based certainly on finding the principal of the document in my book via a google search. So I now own the original will of my great-great-great-great-great-great-great-uncle Thomas Jesper, husband of Sarah3 Taylor, sister of my ancestor John3 Taylor (Simon2, Richard). Not quite a 'Taylor' but close enough; indeed one of his sons was 'Richard Taylor Jesper' (a middle name being unusual in Virginia in the 1740s).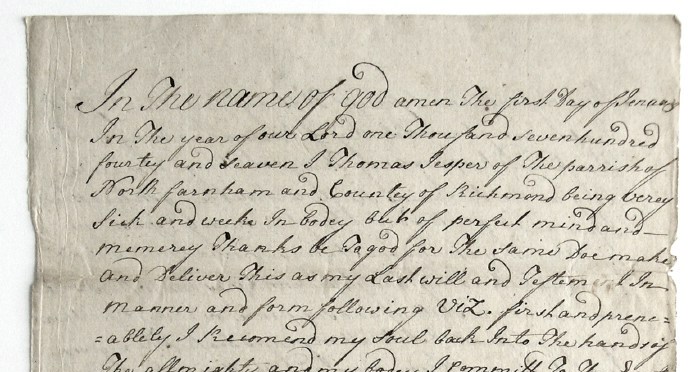 The will was wriitten 1 January 1747[/8] and was proved in Richmond County on 3 October 1748. The county probate books are well kept but the court appears not to have kept original wills: and this is certainly original, as it has Thomas Jesper's own signature on it, next to the wafer seal: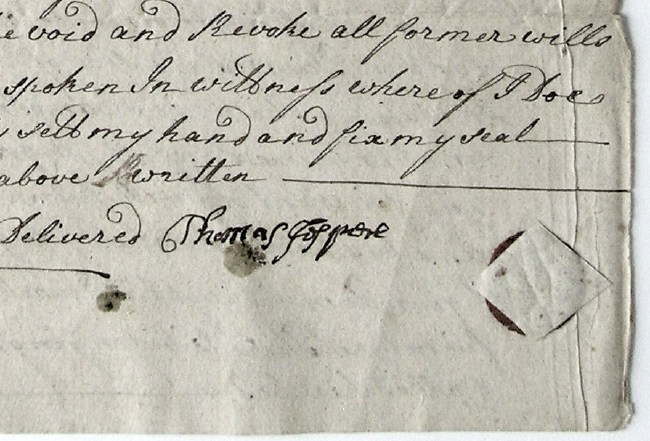 It also bears a fine British crown watermark (similar to the one on my wife's ancestor's colonial militia commission) which shows the paper may well have been made under contract for use in colonial courts or by county JPs, etc.
I am not aware that colonial wills (either from the South or the North) are routinely available for sale, so this took me somewhat by surprise. I've asked the seller, Ian Brabner of Wilmington, Delaware—who apparently deals not infrequently in colonial manuscripts—whether he has made consistent efforts to reach out to descendants like me as buyers of such items when they come into his hands; he has not replied, but it makes perfect sense. Everyday people like Thomas Jesper are not famous by any measure so their documentary leavings have modest intrinsic value, but to descendants or kin who have made a study of them, they are instant heirlooms with (perhaps) accordingly higher monetary values. I expect this aspect of the personalized selling of early manuscript material has taken off in the last couple of years and will continue to grow. I suppose not everone who posts to WorldConnect or wherever is going to be in a position to buy and preserve such heirlooms—but there's surely a hefty overlap.
I don't actually descend from Jesper; he's only my uncle by marriage. But he must have numerous living descendants. I wonder if I'll hear from one of them?