[10/19/11: OK, this has now been made public, so I will post:]
The Saturday of Columbus Day weekend, about lunchtime, came a terse e-mail from a genealogist I'd met once, six years ago at Salt Lake City, but know better by reputation. "What's yer phone number?" Shot it to him quick (with a sentence or two about our recent move), looking forward to his call, whatever it might be about: I'm always happy to hear from pretty much anyone about genealogy.
So I was still surprised when the phone rang (during a rather harried dinner prep for the smalls), and there were two different prominent genealogists on the other end, letting me know that I had just been elected the 160th fellow of the American Society of Genealogists!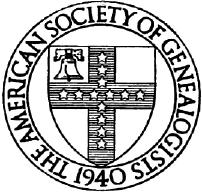 Woot! I did ask if it were an elaborate prank, designed to make me burn the smalls' dinner. They needn't have resorted to such a strategem: I have burned dinner for far less.