I've finally made some progress on the family of my great-aunt Natalie, wife of my great uncle George A. Smith (born Schmitt) of Louisville and New York City. Smith, an actor on stage and screen, married Natalie, a New York socialite when they were both in their late 40s, during the war in 1944; they had no children.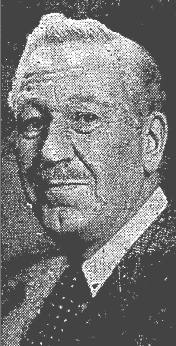 Unc died before I was born but I well remember sitting in the back garden of Natalie's townhouse on the Upper East Side on one overnight visit to New York. I was about five at the time (around 1970), and there is still a picture of me from that particular afternoon, with a great big bowl cut and my favorite loud striped pants. That afternoon I choked on a bullion cube; the next day when we went home I left my stuffed frog behind. Obviously the choke was not fatal, and Natalie later mailed the frog to me with a little note: "So glad to be home again."
Anyway a couple of years ago I found out that Unc was in a movie that I could actually find on tape: 'Stolen Heaven' (1931). He has a small part and does a great comic routine with a cello. The place I got the tape from (a very dark nth generation bootleg) specialized in some weird porn and cult flicks; I'm not sure how this 30's young love – crime melodrama fit into their catalogue. I started to look for examples of his TV work in the early 50s (he died in 1959), but don't have any of the shows—preserved kinescope tapes of obscure early 1950s TV are rare, and these shows haven't been collected on line yet, maybe never will.
Anyway, Natalie, who was born Natalie Slocum, has some interesting family connections. Her father, Henry Warner Slocum Jr., was a lawyer and sometime US tennis champion in the 1880s.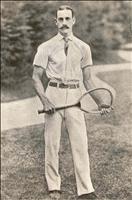 Her grandfather was Civil War general Henry Warner Slocum.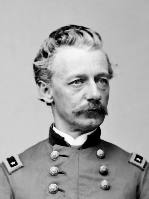 General Slocum, along with the burden of a somewhat critical legacy of his Civil War career, had the further posthumous misfortune to have a steamboat named after him which burned to the waterline in a spectacular fire in the East River in 1904, with over 1000 fatalities, mostly women and children—the most catastrophic loss of life in New York City before 2001.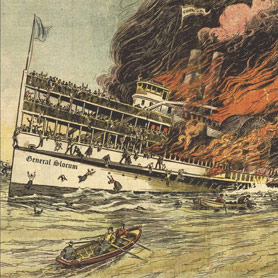 Natalie's parents, Henry Junior and his wife Grace, both died on the same day in 1949, a story which I do not know.
On her mother's side Natalie also had interesting connections. Her maternal grandmother, Mary Emma Jerome, was first cousin to the famous beauty Jennie Jerome, who married a son of the Duke of Marlborough and became mother of Sir Winston Churchill, making Natalie Churchill's second cousin once removed. Mary Emma Jerome's mother was Emma Vanderbilt, daughter of Jeremiah Vanderbilt, a farmer in Flatbush, probably not-too-distant cousin to his near-contemporary 'Commodore' Cornelius Vanderbilt. Here is what I have on the near ancestry of Natalie (Slocum) Smith, up to her seize quartiers.
1. Nathalie Slocum (1893-1982); m. George Albert Dewey Smith (1898-1959); no children
2. Henry Warner Slocum, Jr. (1862-1949)
3. Grace Edsall (1868-1949)
4. General Henry Warner Slocum (1826-1894)
5. Clara Rice (b. 1830, Cazenovia, NY)
6. Henry Edsall (ca. 1838, NJ – bef 1900)
7. Mary Emma Jerome (1843-1935)
8. Matthew Barnard Slocum (1788-1853)
9. Mary Lowell Ostrander (1793-1865)
10. Israel Rice (1801, Conway, MA – 1886, Aurora, IL)
11. Dorcas Jenkins (his 1st wife; they m. in Woodstock or Cazenovia, NY)
12.
13.
14. Thomas Atwater Jerome (1810-1896)
15. Emma Vanderbilt (1816-1901)
16. Benjamin Slocum (1761-1805) [Newport, RI]
17. Elizabeth Jepson Coggeshall (1763-1842) [Newport, RI]
18. Johannes I. Ostrander (1754-1800) [Albany]
19. Catharine Wetzel (1753-1847) [Albany]
20. Isaac Rice (1773, Conway, MA -1852, Cazenovia, NY)
21. Anna Ware ( – )
22.
23.
24.
25.
26.
27.
28. Isaac Jerome (1786-1866)
29. Aurora Murray (1785-1867)
30. Jeremiah Vanderbilt (ca. 1778 – 1856) [Flatbush]
31. Anne / Hannah (d. 1865)
I haven't traced most of these lines back any further, though several of them go to New England and it would be great to find a common ancestor or two. I would be glad to hear from anyone who can fill in the missing links in aunt Natalie's ancestry!