Not everyone agrees with all of Oswald Barron's opinions, but he is one of the revered champions of the golden age of critical genealogy (and other auxiliary historical disciplines) in late Victorian and Edwardian England. His own short-lived journal, The Ancestor, is a splendid readable collection of critical genealogy—Horace Round was a regular contributor. All twelve volumes are accessible on archive.org, and even (surprisingly to me) available at reasonable prices, in the flesh, from some antiquarian booksellers. I've extracted Oswald Barron's learned diatribe "Heraldry Revived" from the first issue of The Ancestor, and also for good measure his magnificent illustrated article "Heraldry" from vol. 13 of the 11th edition of the Encyclopaedia Britannica (which everyone should also have in its entirety on their laptops).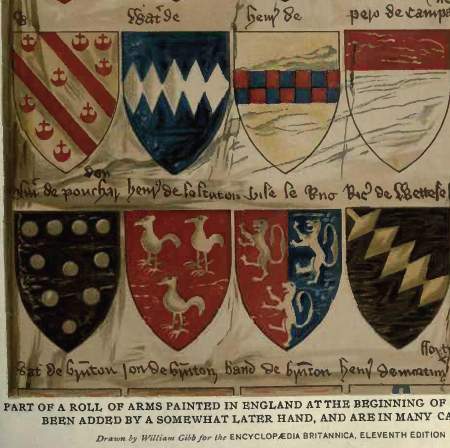 One can find some contradictions between his stance in the Ancestor article and in the statements found in the Britannica, but I think he was conscious of writing for different audiences. Right-click to download the articles as pdfs:
Oswald Barron, "Heraldry Revived," The Ancestor 1 (1902), 36-57.
Oswald Barron, "Heraldry," Encyclopaedia Britannica, 11th ed. (1910-11), 13:311-330 with plates.
NB, I also find an html version of the Britannica 'Heraldry' article, put online by Ant Allan.
And at archive.org, the complete sources:
The Ancestor, vols. 1, 2, 3, 4, 5, 6, 7, 8, 9, 10, 11, and 12.
Encyclopaedia Britannica, 11th ed., vol. 13.
(There are a couple of different sets of EB 11th edition on archive.org, and on google books, but this set is the best-quality scan with OCR; I've linked vol. 13 and one can get the whole set by manually changing the URL for each vol. One can read it online but the complete pdfs I find worth having as locally indexed downloads on my laptop; note that googlebooks pdfs uploaded to archive.org are not word-searchable.)