Do You descend from Robert Abell? After three years of living in a nondescript suburb and caring little about the genealogy of place, I've been waking up to the history of my own neighborhood. Given my genealogical interests, I feel sheepish not to have looked into it earlier. The house we selected for convenience and modern creature comforts, just minutes from downtown Providence and from Julie's hospital, turns out to be on the "Ring of the Green", the original perimeter of the broad common pasture of the original Rehoboth parish, between Robert Abell's houselot and Samuel Newman's. The Newman houselot—now a very fine 18th-century house on the same foundation, the 'Phanuel Bishop House'—is next door to us: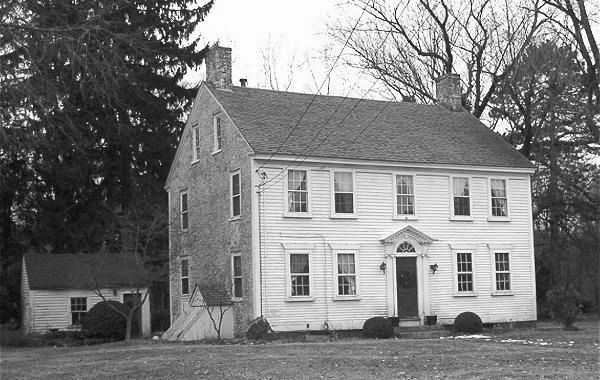 There are two 18th-century Abell houses just down our street, on what must have been the beginning of the Abell farm. When the whole Ring of the Green was torched by the Wampanoags in King Philip's War on March 28, 1675/6, King Philip is said to have pulled a chair out of one of the Abell houses just down the street, set it on the lawn, and sat to watch the settlement burn.
The East Providence Historical Society has a webpage on the 'Ring of the Green', laid out in 1643 for Reverend Samuel Newman and the original proprietors of the sixty-four-square-mile purchase on the East bank of the Seekonk River. Just south of our house the flat, fertile central area falls sharply down into the valley of a branch of the Ten Mile River, land which is thankfully undeveloped as it is now the golfcourse of the Agawam Hunt Club. This land, and the Old Burying Place, are the only places in the neighborhood which retain something of the look of the old village.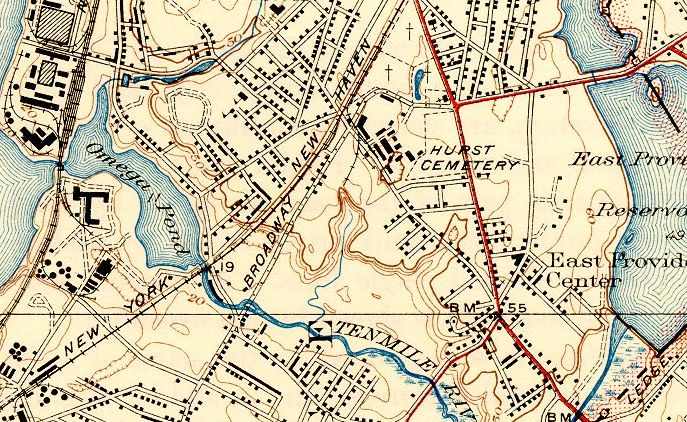 I'm very fond of the Old Burying Place—at the center of the Ring of the Green—where Robert Abell is likely buried. I recently traced several ancestors for Julie in parts of old Rehoboth, but they all lived in the northern part of Rehoboth in the 18th century (now Attleborough), and are buried at the Newell Cemetery and the Old Hatch Burying Ground (some five miles north). None of our lines go back to the 58 original Seekonk / Rehoboth settlers of 1643.
Except one weird sideways connection: the first recorded allocation in Old Rehoboth shows that Robert Abell took over the lot of one Job Lane (not thereafter seen), sometimes thought to be the same as Job-1 Lane of Malden, brother of my ancestor James-1 Lane of Malden & North Yarmouth, Maine. So, via Job Lane and Robert Abell, I'm almost connected to the land on which I now live.