The pond in the heart of East Washington Village is stillness and motion as we walk (dog and I) over the dam. The dam and pond lie at the junction of Purling Beck and Woodward Brook, below Mount Lovewell. Below it is Beard's Brook, a tributary of the Contocook, a tributary (I think, for here my map fails me) of the Merrimack.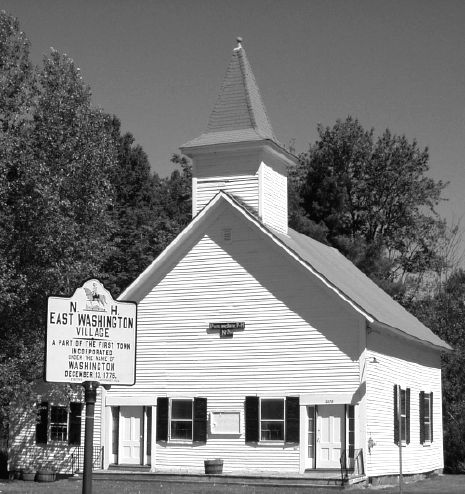 The village of East Washington was founded around 1800, to judge from the first stones on the slope above the church overlooking the pond. A few slate in the old Federal style (with urns or willows in pediments), but turning quickly to marble—marble which is startlingly white and crisp, giving stones from 1830 a look as if they were cut yesterday. This may be due to the lack of chemical weathering. East Washington gets little traffic: its roads are not the speediest way to get anywhere, and few live now in the village which peaked over a hundred years ago. The store by the pond, abandoned for a generation, fell down just four years ago. The pond is made by a single dam, successor to a string of mills, all gone as well. One hundred years ago, three mills stood, one below the other, in the steepest part of the valley below the current pond. Now this is a thickly wooded, seemingly virgin defile, where the stream crashes and pools around jumbled boulders.
An idyllic day spent with my daughter. I hurl myself off the dam into the pond, while she leans over the edge of her uncle's homemade raft, poking at minnows with a short stick.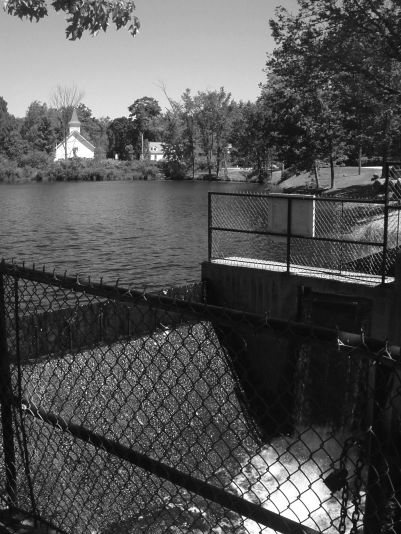 I have been reading that dams, all across the East, pitch preservationists (and tourists in search of scenic villages) against environmentalists seeking the return of all the shad and other spawning fish which have been evicted from so many of our rivers since the dawn of the industrial age. I am sorry not to know where this river goes, and how many other dams lie between East Washington and the sea. We are cut off from the land on which we live. We may be aware of the network of interstates, state and county roads that connect us, but this is a lifeless and poor substitute for understanding the land, particularly its contours and watercourses. I love the idyll of the pond and dam—East Washington's appeal is in its disconnectedness from any modern sprawl or change—but I wonder how this landscape will fare. And if the dam should fall for the return of the shad, will I mourn it?