From the papers, the fascinating story of the (apparent) heir to the Scottish baronetcy of Stirling of Glorat (William J. Booher, "Tracing Family Tree Turns into a Title Search: Greenwood man has some details to confirm before becoming baronet," Indianapolis Star, 19 March 2009).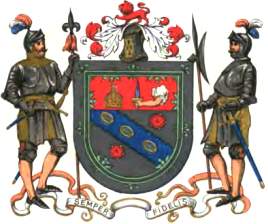 Coat of arms from the frontispiece to Bain (1883).
The coat would correctly represent Stirling of Glorat
only without the roses and supporters.
Mr. Booher's article dwells on the current descendant, Mr. John C. Stirling, Jr., and his (surely) surprising and rewarding investigation of his own ancestry. But even more compelling is the narrative of his ancestors' experience in the century from 1760 to 1860. The story of John Stirling has wonderful elements: young adventure, illness on an exotic shore, providential intervention, love, separation and anxiety, succession to wealth and title, seventeen (!) children; in the next generation, many sons died young, but the son Robert, who returned to North America, lived to participate in the great opening of the American midwest. The following links give the details and show how the story was treated in various sources on both sides of the water.
First, the Scottish side of things with bare-bones ancestry and descent:
Joseph Bain, The Stirlings of Craigbernard and Glorat (Edinburgh, 1883), pp. 31-32.
Next, the compelling story of the adventures of John Stirling (1750-1818), who became the 5th Baronet, romanticized in a book on the Connecticut Folsoms (his wife's family):
Jacob Chapman, Genealogy of the Folsom Family (Concord, NH, 1882), pp. 247-50.
This story is brought together in another compilation of Stirling genealogy, which fleshes out the life of Robert Stirling (1792-1860), eighth son (!) of Sir John, who came (back) to North America, living in Maine, New York, New Brunswick, Ontario, and Ohio:
Albert Mack Sterling, The Sterling Genealogy (New York, 1909), pp. 110-13.
Finally, some records from Campsie, Stirlingshire, showing the prolific 5th Baronet and his Connecticut wife (here, apparently, are Connecticut birth records entered into a Scottish parish register):
George Minns, "Extracts from Scottish Records," Utah Genealogical and Historical Magazine 7 (1916), at pp. 145-46.
A compelling saga mapped out in these sources!
Update: same illustration as given above, digitally 'fixed' to conform to the official blazon for Stirling of Glorat (removed roses & supporters):