Here is the successful breach of a brick wall, with some unusual documentary evidence, leading to a goose-chase for a 'Mr Wright'. The starting point is my wife's XY line, which, as I noted in the last post, went back to Whiting B. Dudley (1823-1882) and then stopped. Here is what I knew:
A family bible entry stated that Whiting Dudley was born 14 August 1823 in North Haven, Connecticut, but named no parents. No birth was found in the Barbour collection, etc. Our only testimony about his parentage comes obliquely from his daughter, Rosa Whiting Dudley (Mrs. John Milton Harmon), 1857-1940. Here is Rosa — a handsome woman: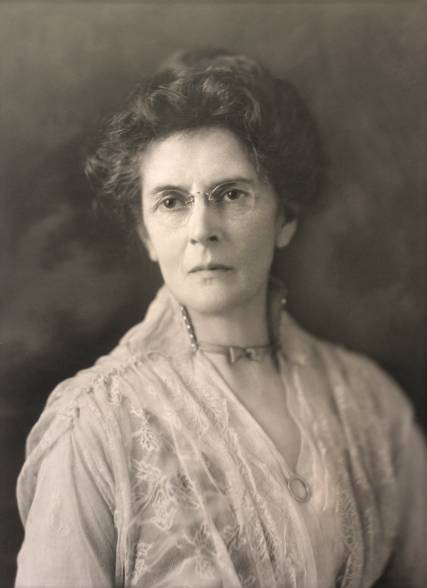 Sometime in the late 1930s I think, Rosa was reminiscing to her daughter-in-law, Beth (Battles) Harmon, about the provenance of various family heirlooms, telling stories to explain objects. Beth took notes on small note paper, of which a few leaves survived among odd papers (but without any attribution—I had to deduce who wrote them and when). Some notes concern other ancestral lines, but the passage relevant to Whiting Dudley read as follows:
That lead doll my grandfather Dudley bought in New York for oldest daughter. Also the pewter tea set. He went often to N.Y. He was taken ill there with yellow fever & grandmother went after him & brought him home in the stage. Father was 5 or so. Says he remembered his father calling him into the room. & talking to him. Told him to be a good boy. … We never heard much about his father. Grandmother married again had two sons. She married Mr. Wright. He taught in a college in East Hampton. Then tutored. I remember him well he used to write me very often. He was a Southerner. A perfect gentleman. He had a colored man from [the] South to do the work. I was crazy about him. He taught in Williston's college; it is open yet. We used to go to her daughter Aunt Lucy in East Hampton for Thanksgiving. She was over 70, but always the life of any party. She died the night I was married. She had the use of property for life. He had one son.
This led me to look for death notices (& probate files) of Dudleys dying around 1828 (when Whiting B. Dudley would have been 5), and one promising match in the New Haven probate district was an Isaac Dudley, who died in East Haven in 1828, leaving a widow Cynthia. The probate file revealed intestacy and debts but did not discuss children. But Cynthia could be the one who married 'Mr. Wright', right?
The breakthrough came tonight when I realized that the Williston School still exists, and Easthampton is the Massachusetts town, not somewhere on Long Island. I searched the Censuses of Easthampton, Massachusetts, where Rosa remembered her grandmother and aunt, and her step-grandfather teaching school. Where was Mr. Wright? Alas I could find no Mr. Wright, southerner and schoolteacher—though there were many nearby Wrights who were Massachusetts natives and farmers. But then I searched again, focusing on Aunt Lucy, the 'life of the party' who died the same night her niece Rosa Dudley was married. I did not have a wedding date for Rosa, but knew she likely married in the later 1870s. Not too many Lucys died in Easthampton in that time, but one did—a "Lucy A. (Dudley) Bassett", whose death record in 1878 led me to a marriage record of Lucy Ann Dudley and Joel Bassett, in nearby Northampton in 1759. The marriage record listed Lucy's birthplace as 'N. Haven', and her parents as Isaac and Cynthia Dudley, confirming my hunch about the East Haven probate in 1828.
And Mr. Wright? Not a Southerner after all, but a Massachusetts native—and perhaps no teacher either, but simply a farmer in the vicinity of the school. His wife Cynthia (Bradley) (Dudley) Wright also died in 1878, aged 74, just a a few weeks after her daughter Lucy (Dudley) Bassett. Cynthia's second husband was a Samuel Wright, born in Massachusetts about 1791 (he was about 13 years older than Cynthia), a farmer in Easthampton. Not a Southerner nor (principally) a schoolteacher, he still may have seemed very genteel to his step-granddaughter Rosa.
Even if Rosa's reminiscences were somewhat rose-tinted, I must thank her for telling — and her daughter in law for writing them down. Combining this breakthrough with readily available secondary sources now gives a much longer XY line for my sons:
1. NN (d. 1671), wife of Timothy Ford (of Charlestown, 1637; d. New Haven, 1684)
2. Matthew Ford ( – 1694) = Mary ( – )
3. Mary Ford (1684-1760) = Ebenezer Blakeslee (1685- )
4. Ebenezer Blakeslee (1711-1771) = Jemima Tuttle (1713-1760)
5. Lydia Blakeslee (1733- ) = Demas Bradley (1732-c. 1784)
6. Amos Bradley ( – ) = Rhoda Tuttle (1780 – )
7. Cynthia Bradley (1804-1878) = (1) Isaac Dudley (1796-1828)
8. Whiting B. Dudley (1823-1882) = Rosanna Hotchkiss (1824-1884)
9. Rosa Whiting Dudley (1857-1940) = John Milton Harmon (1854-1934)
10. Dudley Harmon (1886-1976) = Selene Ayer Armstrong (1883-1932)
11. Carolyn Ayer Harmon (1915-2000) = Joseph Robertson Scott (1915-1986)
12. Joseph Robertson Scott (b. 1942) = Paula Louise Fitts (b. 1945)
13. Julie Harmon Scott (b. 1968) = Nathaniel Lane Taylor (b. 1065)
14. Harrison Scott Taylor (b. 2003) & Simon Lane Taylor (b. 2009)
UPDATE: I have now heard from Rick Teller, the archivist at Williston-Northampton, who points out that a Mr. Russell M. Wright (Williams, Class of 1841), a botanist, taught at Williston for many years; he was a Massachusetts man, but also spent many years, before the Civil War, teaching at an academy in Georgia. Russell Wright just might have been a son or other close relative of Cynthia's husband Samuel Wright, and therefore perhaps Rosa's step-uncle; she might have simply confused reminiscence of this Russell Wright, an uncle, with her step-grandfather Samuel (who appears to have been just a farmer)—or the notes could have conflated the two men about whom she was speaking. I also learn, from Massachusetts vital records, that Cynthia was married three times, and not to Samuel Wright until 1858, when she was 54. So there may be other step-uncles and aunts by Cynthia's second husband, John Bassett.