I finally did it today: I completed plotting, on an outline map of the continental United States, the places lived in by the first seven generations, in the male line, of my Taylor family, descendants of Richard Taylor, who died, testate, in 1679 in Old Rappahannock County on the Northern Neck of Virginia.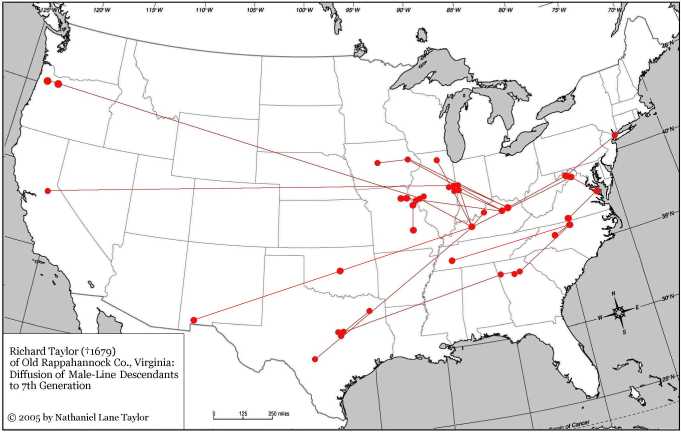 Looking at this family geographically in this way raises questions: is this family truly 'Southern'? Why did no one settle between the Mississippi and the West Coast? The migration south to North Carolina opens up a whole separate path (North Carolina > Georgia > Texas) not discovered by me until recently (2002). What other unknown early branches may open up whole other geographic distributions?
It would be nice to see this as a time-series, perhaps (though this is beyond me) as an animated Flash picture, showing the migrations dynamically, and also showing the petering-out of earlier settlements (for example, I'm not sure whether any of this line stayed in Richmond County, Virginia—ground zero of the migration pattern—beyond say 1750).
But that, I suppose, is a project for another day.
---
The current version of my complete textual genealogy of this Taylor family is available as a pdf
here
.