Here's an interesting item: Count Rumford's grant of arms from the English College of Arms: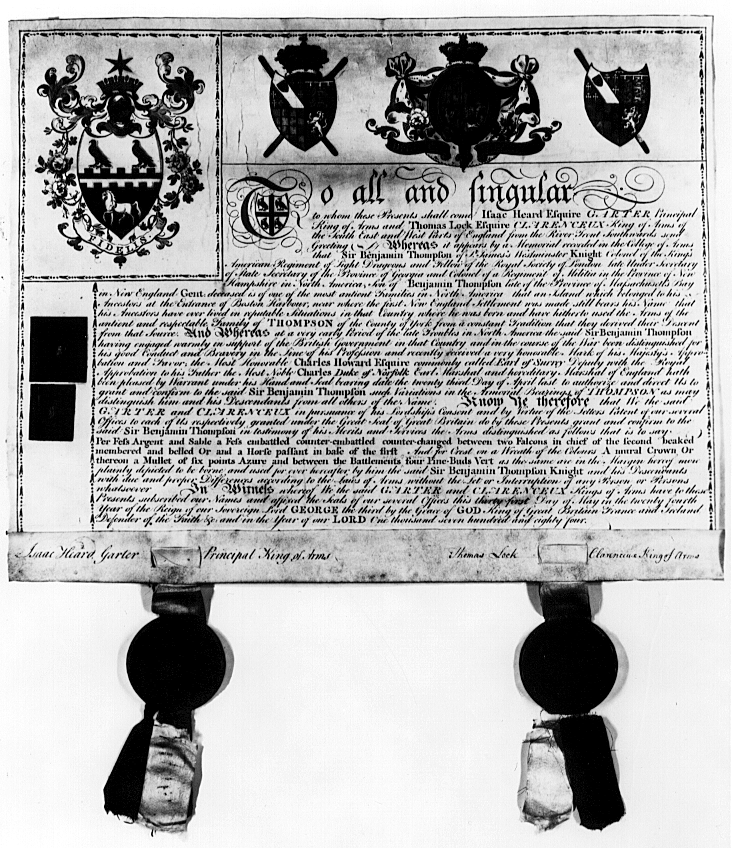 This is from a fine on-line article on Count Rumford: Allen L. King, "Count Rumford, Sanborn Brown, and the Rumford Mosaic," Dartmouth College Library Bulletin 35, New Series (1995).
I see this is one of those modern grants taking notice of an assumption of arms belonging to another family of the same name (and no proved connection), by granting a new coat with "such variations … as may distinguish [him] from others of the name". The "ancient and respectable family of Thompson of the County of York," on whose arms the grant was based, appears in the 1665-6 visitation of Yorkshire. As Matt Tompkins pointed out on rec.heraldry back in August 2006, the original family's arms are, per fess Argent and Sable, a fess counter-embattled between three falcons, all counterchanged. Count Rumford's arms differed from those in the substitution of a White Horse for the lower falcon.
Interesting to have the image of such a fine document granting arms to the man who, for a string of weird reasons, gave my street its fascinating defunct baking powder plant and gave our village its name.