I was at the office of the fabric conservator at RISD when we pulled apart the frame. She was doubtful, since she had seen many of these things simply glued to some sort of acidic backing. But no, this one was actually just stitched to a piece of cardboard and was remarkably supple and stable after 180 years. Some color is faded and there's one hole (some sort of corrosion) but it cleaned up nicely: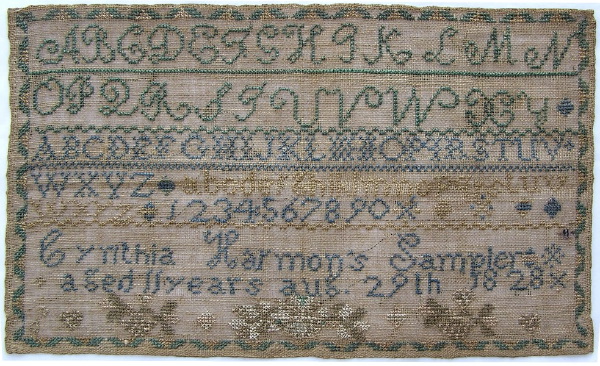 Another amazing artifact from the Connecticut Harmons which has now come our way. They lived in Suffield, Connecticut. Cynthia's grandfather Samuel Harmon was the militia lieutenant whose commission was also given to us last year; now these hang together. Cynthia died at age 21 and is buried in West Suffield. Her brother James Hezron Harmon (see his daguerreotype here) must have passed down his sister's sampler.
I wonder what she was like?