Good news! Following work begun in the summer and already blogged here, and here, we now have another matching DNA sample from another branch of our Taylor family, which pushes the 'most recent common ancestor' of all test subjects back another generation, to Simon2 Taylor.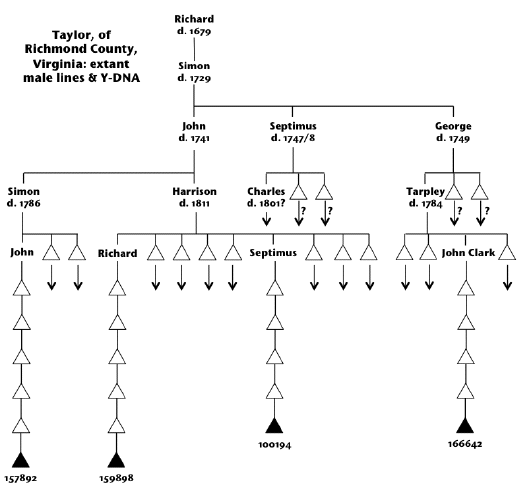 The chart shows the new addition, test subject no. 166642, whose ancestor, George3 Taylor, was brother of the common ancestor of all the previous subjects, John3 Taylor. Not all the data are in, but he so far matches the rest of them 24 for 25. Now to find a descendant of their brother, Septimus3 Taylor, who would agree to testing. There are extant male lines of descent from Charles4 Taylor, son of Septimus3, in Mississippi and Texas; hopefully someone in this part of the family will be interested and able to participate.
UPDATE: have now made contact with male-line descendants of Septimus3 Taylor, and testing is planned in the near future!