This morning I gave an exam to three students in the 'Pavilion Room', a formal dining room or parlor added to the Victorian house at Brown University which now houses the History Department. And I brought my camera to photograph the wood coat of arms, on the amazing scallop-shiplapped chimney hood: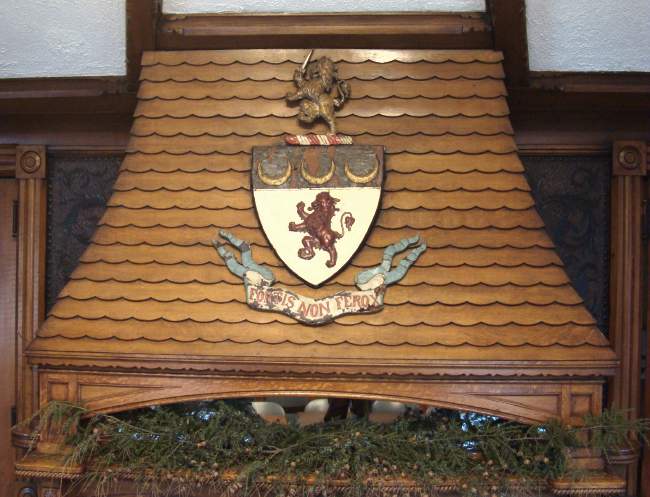 More or less argent a lion rampant gules, on a chief sable three crescents or. Papworth doesn't give us anything close to this (1:105 is where the lions with stuff on a chief are found). Burke's general armory (1032) may get us into the ballpark, with the only family using 'fortis non ferox' as that of Trotter, and specifically a Trotter family that combines a lion rampant (azure) and a chief (ermine).
Unfortunately no such imaginative late-Victorian Providence Trotter is found in Crozier, Bolton or Matthews. I suppose I'll have to look up the house itself, but it would be more fun to smoke this out another way. Not a plaque or brochure at all in the house itself, mind you, except those relating to Mr. Peter Green, the late 20th-century benefactor after whom the house is now named.
UPDATE: the family is Kimball — see comment.