Just the other day I uploaded a new revised version of my book on the Taylors — see here for the download page — and thought I'd signal it with one of the new included photos.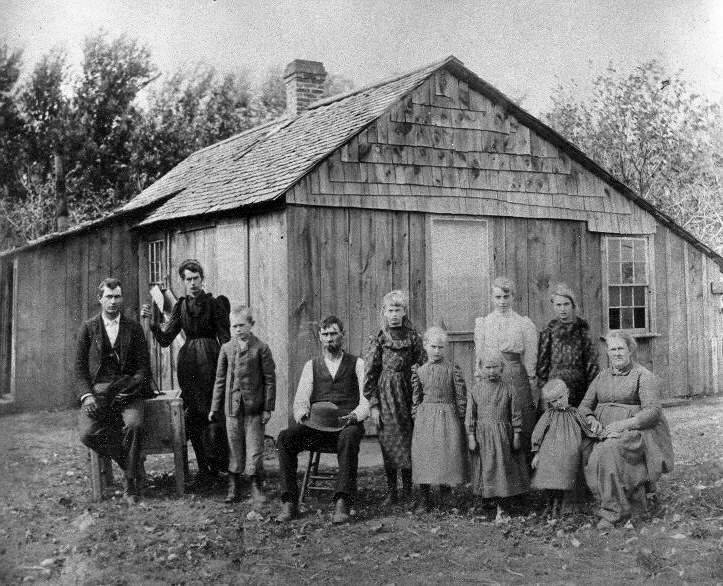 This is James Wesley Taylor (1853-1896) of Tama County, Iowa, and Meade County, South Dakota, with his wife Mary Evangeline Wise Taylor and their extended family. It comes from Darryl Brent Adair, of Texas, whose meticulous research into this particular branch of our Taylor family has formed the basis of some of the recent edits. Here is what Darryl wrote about this photograph:
. . . My favorite old-timey photo probably taken in Tama County Iowa before this Taylor family moved to the Black Hills of South Dakota for the benefit of James Wesley Taylor's health due to tuberculosis where he died in 1896 with the remainder of the family returning to Tama County, Iowa, a few years later. Left to right:
Wilbur Olin Wise (1871-1933)
Mary Angeline Wise Taylor (1851-1933)
Freddie Adam Taylor (1886-1969)
James Wesley Taylor (1853-1896) (with hat on lap)
Dora May Taylor (1883-1901) *
Three young ones in front:
Bertha Ellen Taylor Hill (1888-1979)
Alta Pearl Taylor Adair (1890-1963) my grandmother.
John Franklin Taylor (1892-1980)
Adelphia Bell Taylor Owens (1881-1932) (tallest in back with white blouse) *
Gertrude Edna Taylor Wolhoy (1884-1915) *
Sarah Ellen Fee Wise (1832-1916, mother of Mary Angeline Wise Taylor and Wilbur Olin Wise, seated on end)
(*Again, best guess on these three of the eldest surviving four daughters. I think it is Margaret Edith Taylor (1879-1900) who is absent. The daughter in the white blouse strikes me as Adelphia compared to other family photos I have seen. Otherwise the identities of those marked with an asterisk may need adjustment.)
Quite a shack, ain't it?
Quite a shack, sure — but the double-hung window and central brick chimney are nothing to sneeze about. James Wesley Taylor was my fifth cousin, thrice removed.