I notice that at least one web-search that led to my site this month was a search for my sixth cousins twice removed, the triplets William, Jennings & Bryan Taylor, named after the great turn-of-the-century populist orator. They were sons of Frank L.8 Taylor (Joseph W.7, Tarpley6, John Clark5, Tarpley4, George3, Simon2, Richard). Duplicating the search myself led (thanks, Google News) to the following, from the Boston Evening Transcript of 7 July 1904: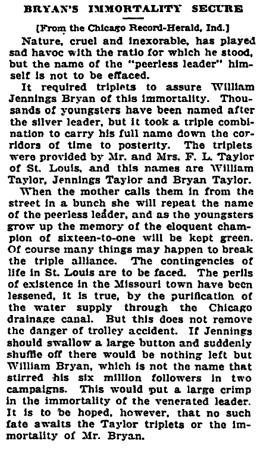 Here I read it into the record:
Bryan's Immortality Secure
[From the Chicago Record-Herald. Ind.]

Nature, cruel and inexorable, has played sad havoc with the ratio for which he stood, but the name of the "peerless leader" himself is not to be effaced.

It required triplets to assure William Jennings Bryan of this immortality. Thousands of youngsters have been named after the silver leader, but it took a triple combination to carry his full name down the corridors of time to posterity. The triplets were provided by Mr. and Mrs. F. L. Taylor of St. Louis, and this names are William Taylor, Jennings Taylor and Bryan Taylor.

When the mother calls them in from the street in a bunch she will repeat the name of the peerless leader, and as the youngsters grow up the memory of the eloquent champion of sixteen-to-one will be kept green. Of course many things may happen to break the triple alliance. The contingencies of life in St. Louis are to be faced. The perils of existence in the Missouri town have been lessened, it is true, by the purification of the water supply through the Chicago drainage canal. But this does not remove the danger of trolley accident. If Jennings should swallow a large button and suddenly shuffle off there would be nothing left but William Bryan, which is not the name that stirred his six million followers in two campaigns. This would put a large crimp in the immortality of the venerated leader. It is to be hoped, however, that no such fate awaits the Taylor triplets or the immortality of Mr. Bryan.
Luckily, the somewhat callous hypothetical by this author never came to pass. Jennings, at least, prospered — I was contacted by a male-line grandson in 2008!