For those interested in what genealogies looked like in the middle ages, I just noticed that one of the rare scroll-format versions of Peter of Poitiers' Historical compendium in the [form of the] genealogy of Christ (Compendium historiae in genealogia Christi) is online. It is Harvard University, Houghton Library MS Typ 216.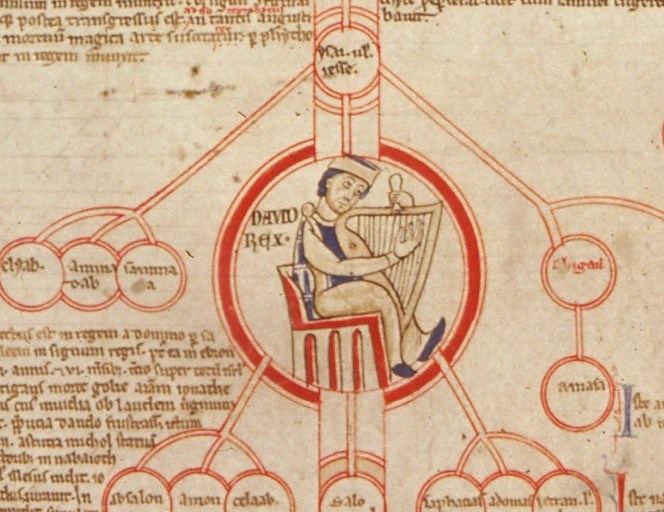 This is a compiled scroll, first made about 1200, representing Old Testament (and secular ancient) history, from the Creation to the Incarnation, laid out as a vertical timeline anchored by the genealogy from Matthew. They were apparently first made for use as teaching aids at the University of Paris (where Peter was a master, then chancellor). There are about a half dozen of these scrolls extant, probably made within a few years of each other.
Harvard's digitized medieval manuscripts website presents five photographs covering the complete scroll, here.
The first image shows the scroll's opening, containing schematic tables for use in calculating consanguinity and affinity, etc. The last picture shows the Nativity of Jesus, and the Holy Family (maternal kinship) at the bottom.
Now, for fun: monkey with the browser to display (then download) maximum resolution images of all parts of the scroll. Use Graphic Converter (or Photoshop, or whatever) to knit them together. Ponder one large, interesting, image.