Turns out Amy Allin's sister has a picture in Bicknell's Barrington too, Elizabeth Waldron Allin: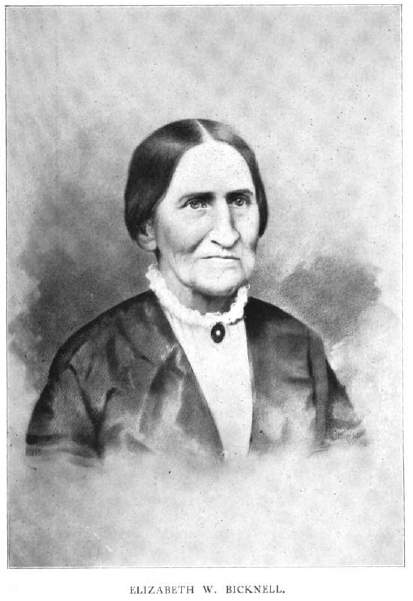 And well she should, since Elizabeth went on to marry her cousin (at least two different ways), Allin Bicknell; they were parents of Thomas W. Bicknell, the author. No wonder he seems to have felt a special attachment to our housefather.
UPDATE: No, she was his stepmother. The 1913 Bicknell Genealogy, also by Thomas W., gives more information: she married his father (then a widower) sometime around 1844, when Thomas was 10; they then moved into our house, which then belonged to her. His stepmother was by then an older spinster and had no children of her own. The Bicknells and Allins were much intermarried, but Bicknell had no Allin ancestry, even though his own father was named Allin Bicknell: the forename Allin had been chosen to commemorate a half-great uncle, Allin Bicknell, who did have an Allin mother, even though his later namesake had no Allin ancestry. Goes to show how such onomastic clues must be used warily!
Here is what Bicknell says about Thomas Allin and the house (p. 43-44): "Thomas Allin . . . was a farmer and land surveyor, owning about one hundred acres of his father's farm in Barrington." And: "The mansion he built in 1788 still stands at West Barrington, and has been occupied in part by his descendants until the present time." And about his own father and stepmother (p. 173): "Allin Bicknell was a farmer, and until his second marriage cultivated a part of the original Bicknell estate, adjoining Princes Pond. This property was sold to Ebenezer Tiffany about 1844, and the family removed to the Gen. Thomas Allin homestead at West Barrington, the property of his second wife." The first passage corroborates my thought that the original Allin lands were subdivided and a second house built, but it does not say when. The date of 1788 for Thomas Allin's construction is interesting, close to the newer tradition of 1783, but distinct.