This is one of those amazing genealogical synergisms, and it has a moral: get your brick walls online.
My wife's great-grandmother Mary (Nye) Scott (1882-1965) —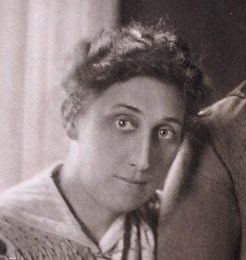 — came from an old Great-Migration family in Massachusetts, the Nyes. But her mother Cora Stapleton Nye (1861-1944) —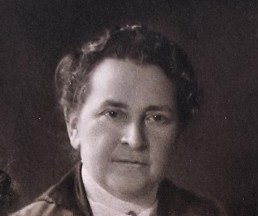 — was one of those odd migrants who floated from one part of the country to another in an unusual direction. Early on I found that her father was named 'De Vere Stapleton' and he was an Englishman; her mother, named Mary, was from Virginia. Cora had come north from Arkansas (!) to Victorian Boston as a teenager, apparently an orphan. De Vere Stapleton was preserved for us only as a line item here and there, and as a signature —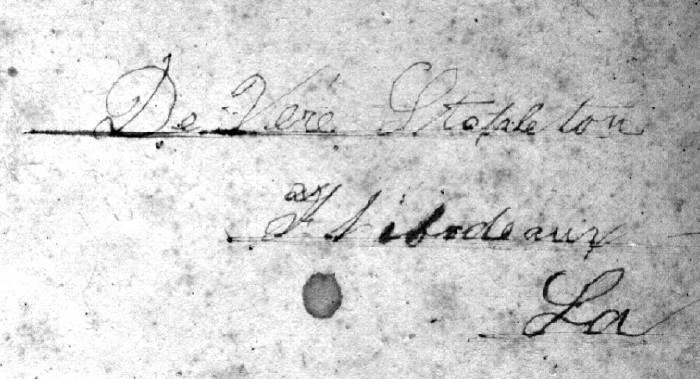 — in a disembodied flyleaf to some long-discarded book (the flyleaf came down to us tucked into one of Cora's books, on Temperance [yawn]).
So De Vere and Mary were dead ends. But two years ago I heard, out of the blue, from a cousin of De Vere Stapleton's wife Mary Ann, who was born Mary Ann Williamson in Bedford County, Virginia! He knew the name 'De Vere Stapleton' since it had been preserved in notes kept in the Williamson family by Mary Ann's sister and passed to him by a granddaughter-in-law. Even with this fortuitous Virginia link I despaired of finding De Vere Stapleton.
But the out-of-the-blue scenario has just repeated itself, even more spectacularly: just before Christmas a Stapleton descendant from Capetown, South Africa—Dawn (Stapylton-Adkins) Raimondo—looking for her long-lost great-great-great-granduncle Vere Stapleton, found him here on my website. So now I am learning about his family, the Stapletons of Martock, Somerset. No clue why this man was baptized with the given name 'Vere' though—nor why he appears to have promoted himself to the pseudo-aristocracy with the addition of the preposition 'De'. (Of course I had imagined him the bastard son of an earl of Oxford.) And still no indication of where he lived and died after my children's ancestor Cora was born in the wilds of western Arkansas in 1861. Perhaps another googler will complete the story for us?