Abelard, Heloise, and the Courtship of Myles Standish
copyright © 1996, Nathaniel Lane Taylor
In his autobioraphical letter, the Historia calamitatum or 'story of my problems', the famous twelfth-century educator and rake Peter Abelard identifies his and Heloise's love child as a boy by the name of Astralabe. [1] Nothing is known for certain of Astralabe's life, although it is possible that he became a clergyman, and two attestations of an Astralabe as clergyman survive in the ensuing years, in addition to an obituary notice for him in the necrology of Abelard's monastery of the Paraclete.

In my continuing quest to unearth picturesque bogus medieval pedigrees, I recently came upon reference to a genealogical tradition linking the doomed love of Abelard and Heloise with an equally romantic episode hundreds of years and thousands of miles away: the romance of John Alden and Priscilla Mullins, Mayflower pilgrims of the Plymouth Colony.
Their story is immortalized in Longfellow's The Courtship of Myles Standish: Myles Standish, the doughty military captain of the struggling Plymouth colony, desired young orphan Priscilla Mullins as a wife, and engaged young and suave John Alden to plead his case with her. Unfortunately for Captain Standish (and in a sort of a sidways Cyrano situation), Priscilla married John Alden and lived happily ever after; today they have tens of thousands of descendants (including both my in-laws).
The ancestry of William Mullins, Priscilla's father, is unknown, but wishful-thinking genealogists in the nineteenth century pretended he was descended from the noble Molyneux family of medieval England. [2] The most extreme version of this false pedigree that I have found alleges that Robert Molyneux, alleged founder of a noble Molyneux family in England in the twelfth century, was a son of Abelard and Heloise! [3] Undoubtedly some imaginative genealogist enjoyed the story of Abelard and Heloise, enjoyed the story of John Alden and Priscilla Mullins, and decided to link them together. [4] This sort of genealogical foolishness is distressingly common, though I admit that here the perpetrator had a good sense of drama, or sense of humor, or both.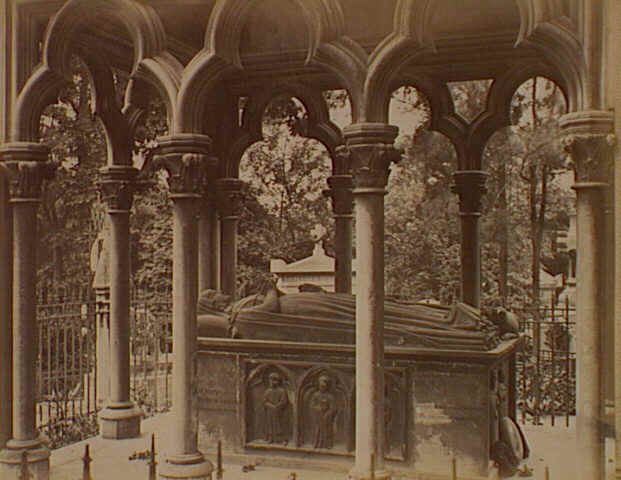 ---
[1] Abelard, "Historia calamitatum," in The Letters of Abelard and Heloise, ed. Betty Radice (Harmondsworth, 1974), p. 69 and note.
[2] There is no basis for the claim, though I suppose someone thought of it because if you say them fast (or slur them drunk), Molyneux sounds like Mullins. Nevertheless the Dictionary of English Surnames, 3d ed. (Oxford, 1997) admits no common origin for 'Molyneux' and 'Mullins'.
[3] See Mrs. Nellie Zada Rice Molyneux, History, genealogical and biographical, of the Molyneux families (Syracuse, N. Y., 1904)—an amateur genealogical compilation of middling quality in other respects, for its period. She describes this as a 'tradition', which apparently did not originate with her; I have yet to track it down to its source.
[4] Longfellow knew Abelard & Heloise quite well, of course. A few years ago I had the opportunity to buy Longfellow's own (signed) copy of a late 18th-century translation of the letters of Abelard and Heloise in a Harvard Square used book shop. I'm still mad at myself for not making an offer for the unpriced book. When I went back the next day, resolved to buy it, it was already gone, at less than what I would have paid for it...
rev 08/18/2004