my children's seize quartiers: quarter 6: Lane
Nellie Mae9 Lane (1876-1935) (George Washington8, Lazarus7, Caleb6-4, Joseph3, John2, James1, JamesA, GeorgeB, ThomasC, RobertD) of Gloucester, MA. Descendant of James Lane (d. 1675/6), of Malden, Massachusetts, and Westcustigo, North Yarmouth, Maine; and of many other Essex County lines. Her mother, Anne Elizabeth (Andrews) Lane, was from Guysborough, Nova Scotia; her ancestors include a relocated English loyalist, a Scots immigrant, and a Hessian pensioner. Nellie Mae Lane's father, George Washington8 Lane, was a fishing schooner captain and Civil War veteran. See below for material on him.
Here is Nellie Mae Lane, probably in the 1920s: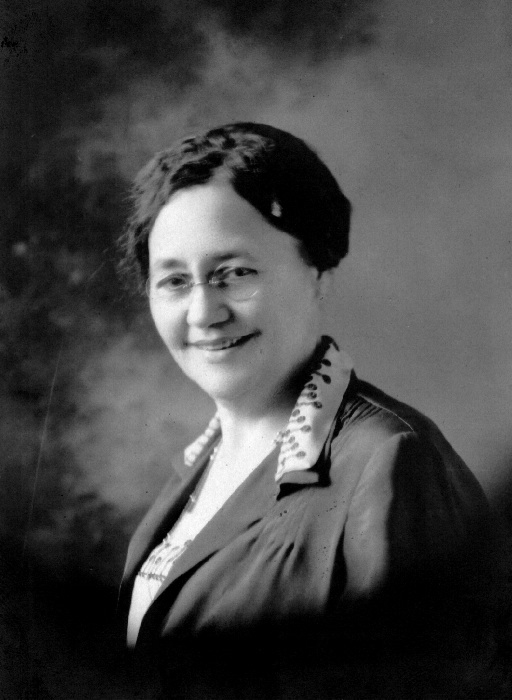 Here is Nellie Mae Lane (center, rear) with her husband Benjamin Franklin Tucker and their seven children in 1908: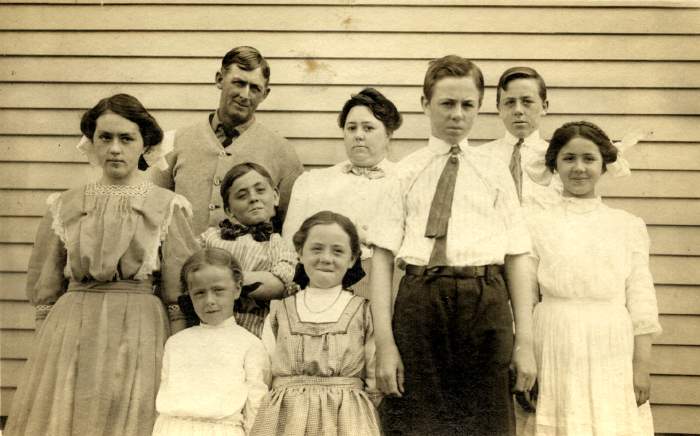 ---
Lane house at Rickmansworth, Hertfordshire, home of JamesA Lane's brother John Lane, and probably home of GeorgeB, ThomasC and RobertD Lane: photograph printed in Rev. James Hill Fitts, Lane Genealogies, vol. 3 (Exeter, N.H., 1902), frontispiece: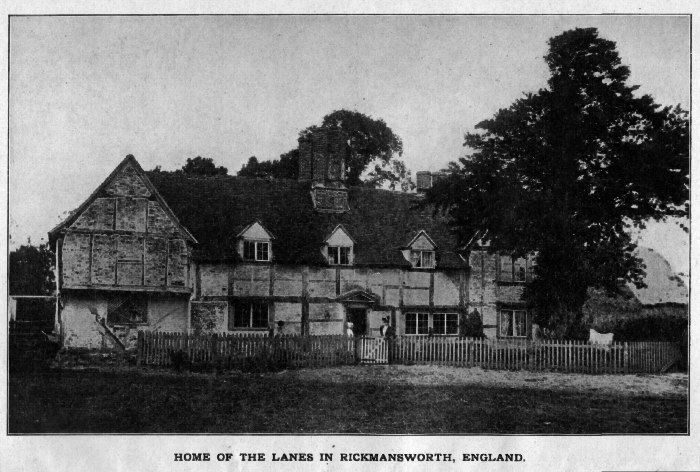 ---
Ruth Morgan Stanwood Lane Thurston, 1812-1887 (born Ruth Morgan Stanwood; m (1) Lazarus7 Lane; m (2) Nathaniel Thurston), mother of George Washington8 Lane: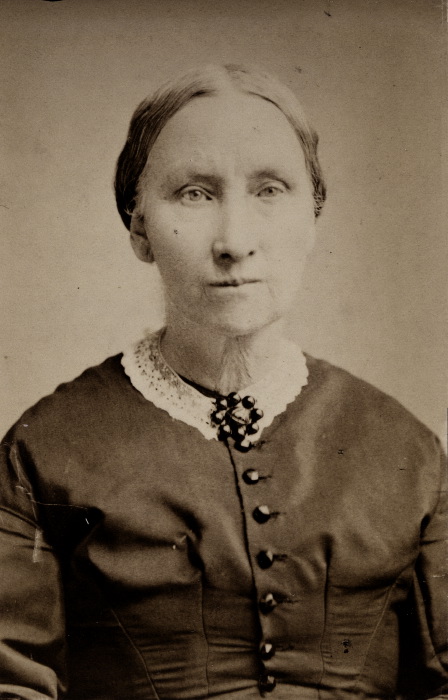 Magnificent photo courtesy of Thurston descendant Jennifer Dow of Bradford, NH.
---
• 'US': my blog entry with photos of George Washington Lane's Civil War belt.

• article: "Three Calebs and a 'Lara': Untangling Gloucester Lanes." NEHGS Nexus 16 (1999), 106-109.

• manuscript: "A Massachusetts Privateer Hand in the Revolution: Caleb Lane of Gloucester." A case study, reconstructing a man's maritime career by reconciling discrepant pension declarations, compiled military registers, and diverse published naval documentary sources [offline for revision & submission]

• manuscript: "George Washington Lane of Gloucester Mass.: Seven Letters Home from the Civil War." Annotated transcription. Lane was a private in the 32d Mass. Volunteer Infantry.

• early Lane letters, relating to the English Lanes and their kin, passed down in the Malden-Billerica branch of the family: William H. Whitmore, "Lane Family Papers," New England Historical and Genealogical Register 11 (1857), 102-12, 231-41, 360; 17 (1863), 266-67, 331-33.
---
this page — with all local text and images appearing or linked here — copyright © 2006 Nathaniel Lane Taylor: rev 09/05/2007