It unrolls easily. I coil it artfully on the black velvet under my camera. The leather is supple enough, but also feels fragile. The belt is very light, as if desiccated, and the buckle seems disproportionately heavy. Waxed black thread, worked erratically but securely, still holds the brass clip onto the tongue end of the belt where it must have been loose. Perhaps it was stitched on in a pestilential camp trench near the Rappahannock river, or at bivouac behind a fence in a field near Gettysburg.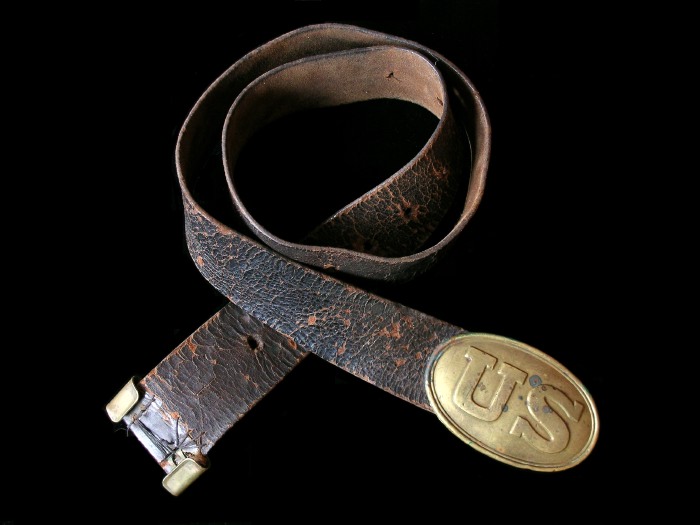 At the buckle end, the leather is stiff enough that I don't want to force the arrow-shaped prongs out of the holes to detach the buckle to photograph the whole back. I'm not expert on the kinds of discoloration on the surface of the 'US' buckle but I am loath to try any sort of polishing agent.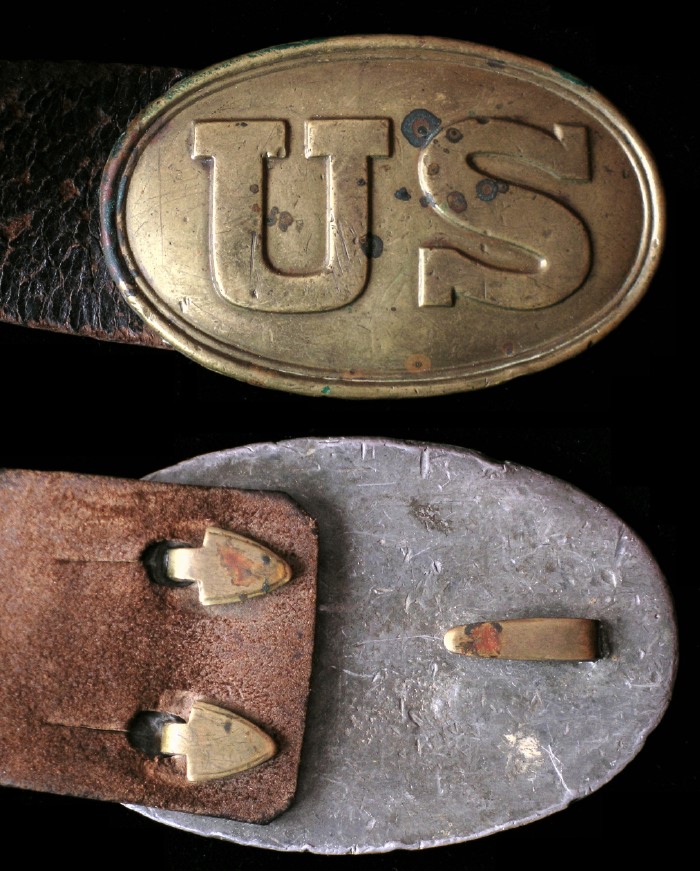 It is returned to its box, under a couple of other odd belts. One of those is a gaudy sword belt which belonged to my grandfather, Carle Thornton Tucker—part of his uniform as a Freemason. The plainer and much more beautiful 'US' belt belonged to his grandfather, George Washington Lane, a veteran of the Civil War.
George Washington Lane, with several other Gloucester men well known to him, joined the Army, and was mustered into Company D of the 32d Massachusetts Volunteer Infantry in Boston, on 14 November 1861. He left behind his wife and infant daughter for an uncertain time of war. But he was used to taking this sort of risk each time his fishing schooner left Cape Ann's sheltered waters for the Banks. Maybe he was issued the belt at the time of the muster, or shortly thereafter.
Seven letters home (in the possession of another descendant, Anne Middleton) give glimpses of George Washington Lane's career in the army that is much more personal than what we find in his military and pension files. The first letter dates from 18 February 1862, and shows Lane not far from where he started: at Fort Warren in Boston Harbor, where green Union troops guarded confederate prisoners. A couple of weeks earlier Lane had been injured in the groin with a bayonet while climbing out of an upper bunk; he fully recovered but remained sore for weeks, complaining to Annie about how quickly he was returned to active duty.
The other six letters are from the Winter and Spring of 1862-3 and show Lane in real action, mostly around Fredericksburg, Virginia. Gloucester friends are injured; Lane himself is ill for a while with dysentery and piles; little Anna, back in Gloucester, is also sick for a time; Lane promises to send home a piece of fine drapery looted from a Fredericksburg house, but then sells it to one of his officers for ten dollars. He later sends some of that money home, along with a substantial sum of regular pay; he also has his photograph taken, in camp, for one dollar. Lane's company (with him in it) went on to fight at Gettysburg and elsewhere, and he was not discharged until 28 November 1864.
Lane returned to Gloucester, to Annie, and to the sea. George and Annie had six more children. He became master of a fishing schooner, George B. Loring (though I do not think he owned it). The North Atlantic hurricane of 20-21 February 1879 claimed George B. Loring, along with Lane (who was master), his brother Joseph, his brother-in-law Reuben Ellis, and seven other men. Widow Annie Andrews Lane applied for, and got, a pension; she lived until 1913.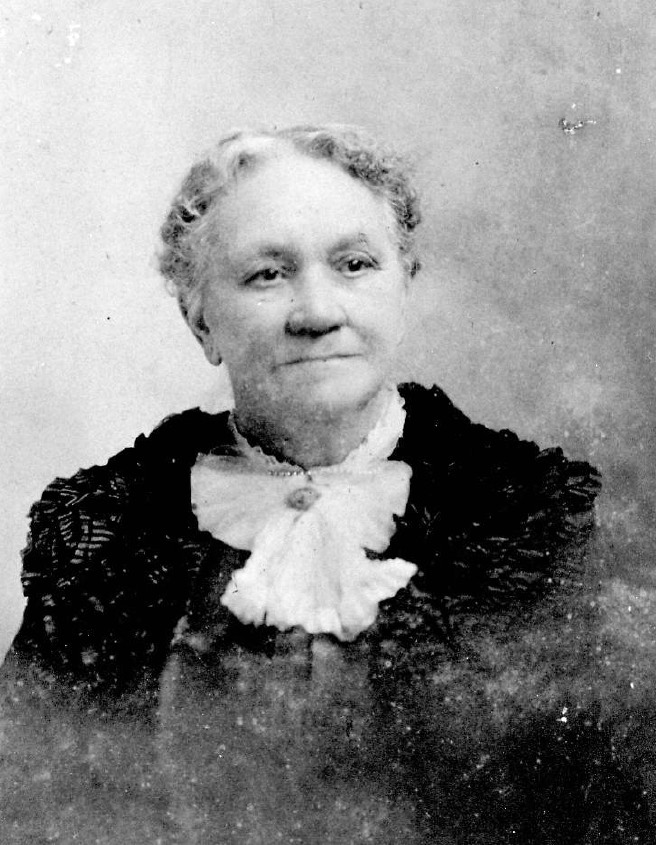 George Washington Lane and Annie Elizabeth (Andrews) Lane have numerous descendants now.