John of Worcester's Genealogies of Anglo-Saxon and Norman Kings
John of Worcester, Chronicle of world and English history, principal manuscript, circa 1128. Oxford: Corpus Christi College, MS 157, pp. 47-54.
The full manuscript is available in high-resolution digital images online at the Early Manuscripts at Oxford University website. These thumbnails (slightly larger than those on this manuscript's index page there) are intended as a quick reference, to draw attention to this particular diagrammatic sequence. The full-resolution images at Oxford are linked to each thumbnail here.
The content is the standard Anglo-Saxon genealogies as found in the ASC. With an interesting first page getting us from Adam to Woden. What is most interesting is not the genealogies per se but the scribe's layout of the names on the page, connected by careful and vibrant red lines. There was no attempt to place names inside roundels or employ any other more abstract chart iconography. Rather, here (as also in one of the charts in the near-contemporary Liber floridus of Lambert of Saint-Omer, and one of the Arabic stemmata appearing in Watson's Early Iconography of the Tree of Jesse), the scribe relies on the power of the names themselves to anchor a diagram on the page, with lines simply taking the place of any syntax needed to describe the filiation.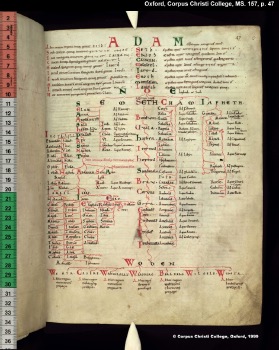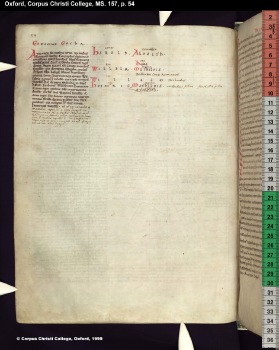 ---