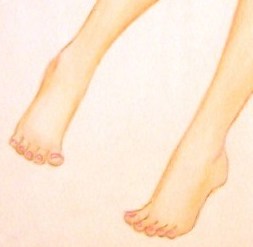 Posting Wilbur's Air Service Command patch got me to go back over the fragments of his war memorabilia to flesh out his service. He was in England from February 1944 to July 1945, rigging parachutes at an Eighth Air Force Liberator base in Norfolk, but we didn't know where. It now looks like he was (at least for some of the time, and perhaps all of it) at Attlebridge RAF base in Norfolk, home of the 466th Bomb Group: Wilbur's APO was that for the Air Service Command supporting the Eighth; and his assigned place at least during September to November (and possibly the whole stretch) was the '472nd Sub-Depot', which was Attlebridge. Wilbur's snapshots of the depot include two identifiable B-24s from the 466th, and he kept a note of appreciation signed by various comrades including one pilot of the 466th, Capt. Francis Bell, who had hit the silk after a disastrous midair collision on 16 September 1944.
Another mystery in Wilbur's effects is a sketch and colored illustration which seems reminiscent of aircraft nose art, complete with a vivacious lady and an evocative name. Here she is, the 'Scrubbed Goose' [NSFW after jump]: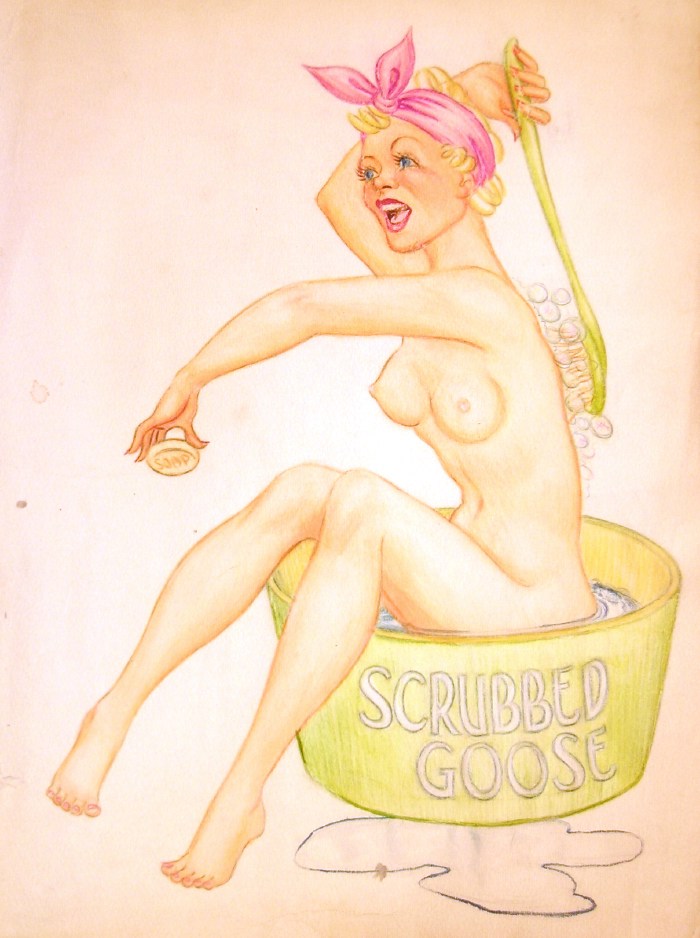 Unfortunately, no real aircraft named 'Scrubbed Goose' has yet been found, either in the 466th or anywhere in the Eighth. I wondered: is the art original? Wilbur's pencil sketch (on tracing paper) shows an earlier stage of the composition: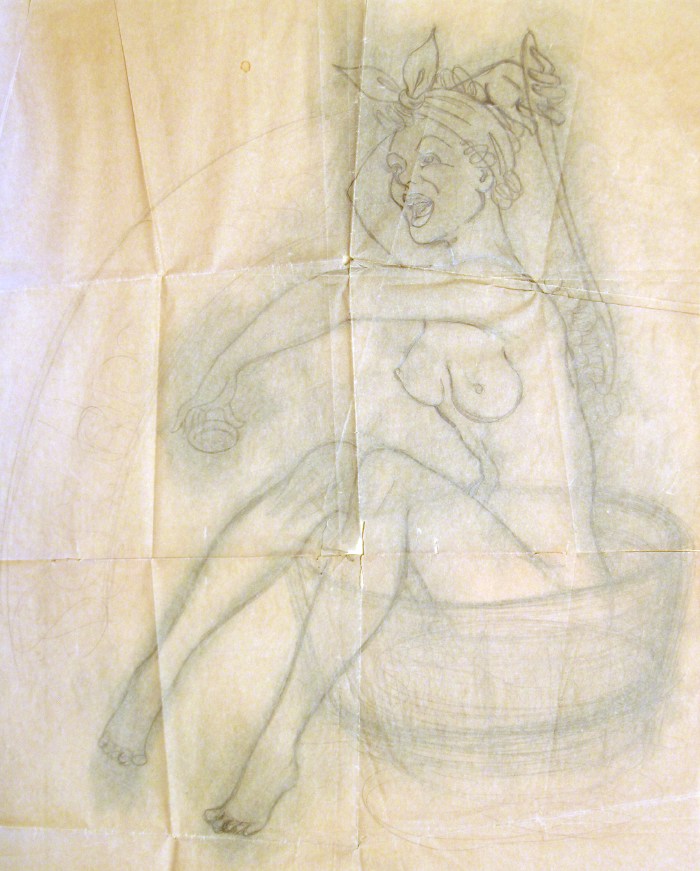 In this sketch the figure is already carefully finished (she herself may have been traced from somewhere else), but the tub is shallower. Most interestingly, the name is at the left, plotted out in larger letters on a circular arc (very faint–erased). Wilbur subsequently moved the name to the tub for the colored version, deepening it in the process (in the final version, her bottom isn't sitting on the tub floor anymore, but you hardly notice it). This shows that Wilbur was thinking about it seriously as a composition, and the colored version is carefully finished with pastel or pastel pencils. In most real nose art, though, it looks as if the name is separate from the figure for better legibility (as in the sketch). And nothing on a plane (that I've ever seen from photos) used this level of color gradation, shading, and line detail. But with the name and the figure it's hard to see this as anything other than an aircraft name & genie.
So, I don't know if chute shop guys ever got involved in painting aircraft, but Wilbur's artistic experience (and talent in the way of pinups) was probably known to the airmen: someone mentioned it on the note signed by Capt. Bell. So maybe he did get involved in ideas for a nose even if this gal never made it onto a bomber.
Or maybe she was always just Wilbur's private tribute to the spirit of the Eighth?