[UPDATED: better, credited photo of the modern painting of Don Pedro.]
We New Englanders, and Anglos generally, have neglected the other colonies in our search for armigerous early settlers in the colonies that would become the United States. (This is the mandate behind the Roll of Arms compiled by the Committee on Heraldry of the NEHGS.) In over a hundred years of active compilation of the Roll (now with over 800 arms in it), the early colonists of Florida, Louisiana, and California (or other parts of Nueva España or Nouvelle France) have been entirely overlooked—at least the Dutch settlers of Nieuw Amsterdam have been represented to a degree.
Casting about in early Florida gets us to the Almirante Pedro Menéndez de Avilés (1519-1574), first colonial governor, founder of Saint Augustine.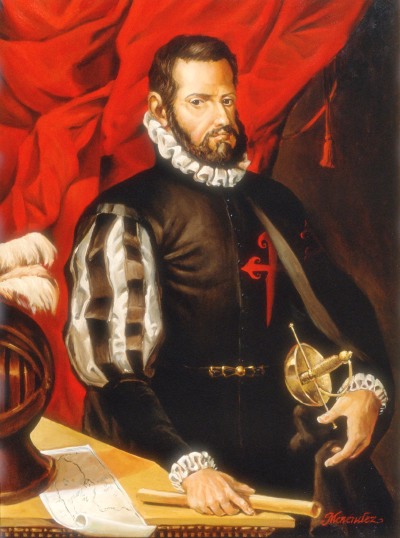 Painting by Mark Menendez of Andrews, North Carolina,
now at the Missión Nombre de Dios in St. Augustine, and
reproduced here with Mark's permission, and based on this
sixteenth-century engraving after a now-lost portrait by Titian: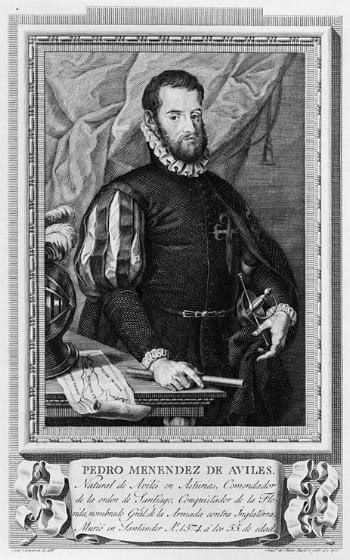 One remarkable thing is that his own coat of arms survives, painted on a panel from his original coffin:


As this online page on this from the Florida Museum of Natural History shows, this panel with coat of arms was taken from his own coffin at the church of Avilés (Asturias, Spain) and given to the people and diocese of Saint Augustine in 1924. One cannot find a better provenance for a coat of arms than that! Interestingly the coat shows four quarters of which only two (the first and third) are sometimes now used. It does seem that the arms are related to those of the city of Avilés itself.