John Ross Delafield (1874-1964), a scion of New York's pre-Gilded Age oligarchy, appears to have been the man who invented the 20th-century practice of honorary grants of arms by the College of Arms for the use of Americans of English (or British) descent.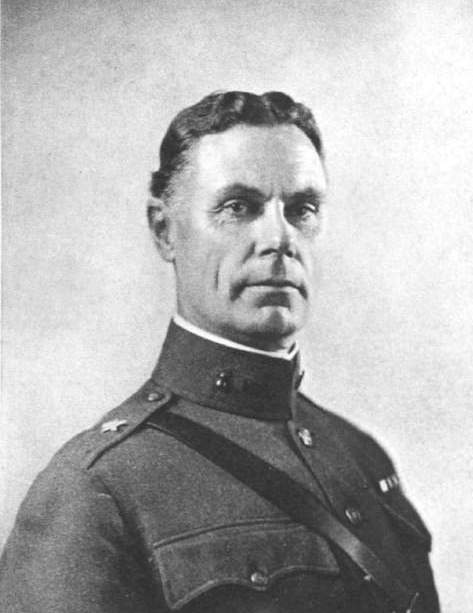 Delafield as a general; frontispiece to
Delafield: The Family History
, vol. 2 (1945)
The practice may well have emerged as a result of the College's work with Delafield—his interactions with them date from 1916 to, at least, 1932. Delafield's great-great-grandfather John Delafield immigrated from England to New York City in 1784, founding a prominent New York dynasty. The Oxford Guide to Heraldry, pp. 168-69, tells us that John Ross Delafield received a Lyon matriculation of arms for his mother's Livingston family (minor Scottish gentry who became great landed proprietors of Colonial New York) in 1916. On 10 February 1917 the College of Arms (undoubtedly on Delafield's initiative) granted arms not to him but to a male-line cousin, Arthur John Lewis Delafield, who was a British subject, with all agnate descendants of the first American Delafield explicitly within the limitations of the grant.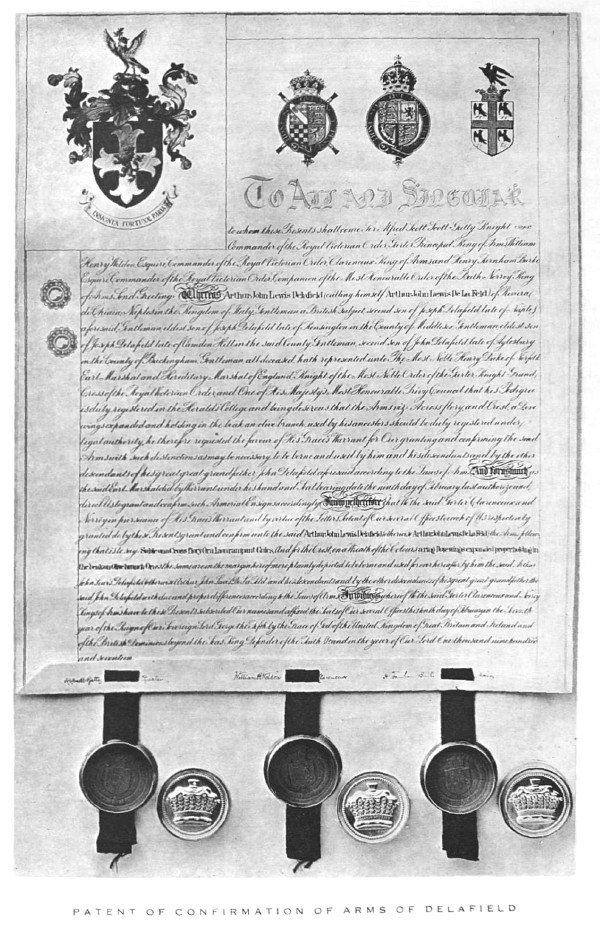 letters patent reproduced in
Delafield: The Family History
, vol. 2 (1945)
In 1919 Delafield secured a grant of arms to quarter Hallett, which likely was also not honorary, as it was a quartering to accompany Delafield and was probably also issued to cousin Arthur (Hallett was the surname of the wife of the first American Delafield; her family had been in New York for some time previously). According to the Oxford Guide the earliest known grant to use the word 'honorary' (apparently there was or is no easy way for the heralds to search for this) appears to have come in 1920. Although the Oxford Guide doesn't state the connection, the grantee was Delafield's brother-in-law, Alain White, with limitation to descendants of the grantee's father (Delafield's late father in law) John Jay White of Litchfield, Connecticut. This grant permitted Delafield to use the arms for his wife (i.e. to impale them), though of course she was not an heraldic heiress. A quartering for the Connecticut Wetmore family (Delafield's wife's mother was a Wetmore and an heraldic heiress in English usage) would follow in 1923, presumably also issued to Alain White and also usable by Delafield in an impalement.
[As an aside: although not mentioned in the Oxford Guide, the Roll of Arms also shows another proto-honorary grantee in the same period: James Atkins Noyes (Roll of Arms no. 434) received a CoA grant on 6 January 1915. The Roll entry lists him as "James Atkins Noyes, of Suffolk Street, Parish of St. James, London, and of Cambridge Massachusetts." But Noyes was a New Englander, born 1857, AB Harvard 1884; he belonged to an old family of New England Noyeses (descended from Great-Migration immigrant Nicholas Noyes of Newbury). He lived in Cambridge (Mass.) more or less his whole life; at any rate he died there in 1945. I very much doubt that he revoked his US citizenship and intended or represented to the CoA an intention to settle permanently in England; was his grant stated to be 'honorary' or not; if not, were there any other Americans who received ordinary grants from the CoA while sojourning only briefly within the British Empire?]
The full chronology of Delafield's armorial dealings is interesting. He had got from Lyon a matriculation of Livingston arms already in 1916, then went on to secure grants for his pronomial coat, Delafield in 1917, followed by a Hallett quartering in 1919; he surely orchestrated the early truly 'honorary' grants for White (1920) and Wetmore (1923) for his wife's family. Delafield was entitled to quarter Livingston twice, being descended from two Livinston heiresses. He went on to secure additional 'honorary' CoA grants for Schuyler (1927), Beeckman (1927), and Vanbrugh (1932), though these were only to be quartered via Livingston—making them, curiously, English arms for Dutchmen to be quartered, English-style, via a Scottish intermediary. The White and Wetmore honorary grants may have been entirely new designs, but it does appear that the other arms (including Delafield's pronomial coat) had actually been used in 18th- and early 19th-century New York. It would be nice to see a summary of the use of these various coats in early New York. Evidence is scattered through vol. 2 of Delafield: The Family History.
Delafield's bookplate, beautifully engraved in 1927, shows quarterly of 6: Delafield, Hallett, Livingston (grand quarterly: 1 & 4 Livingston, 2 & 3 Callendar), Schuyler, Livingston/Callendar again, and Beeckman; all impaling, quarterly, 1 & 4, White; 2 & 3, Wetmore.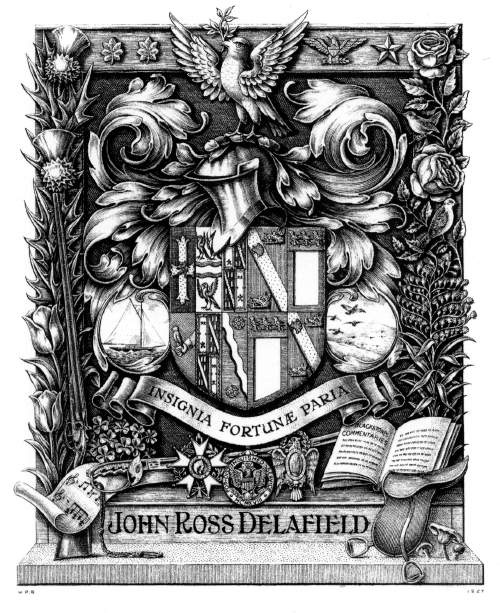 bookplate offprinted as a plate in
Delafield: The Family History
, vol. 2 (1945)
This marvelous bookplate was printed directly on a full-size sheet of heavy rag paper bound into vol. 2 of the Delafield genealogy. I now learn (from bookplate blogger Lewis Jaffe) that this plate, initialed 'W.P.B.' and dated 1927, was the work of English bookplate designer William Phillips Barrett. Perhaps, after receiving the grant for quartering Vanbrugh in 1932, Delafield hadn't the heart to seek to commission an updated armorial bookplate to rival this fine work.
The engraving is a busy compendium of Delafield's achievements and interests: the foliage represents ethnic heritage (Scottish thistle, Irish shamrocks, English roses, Dutch tulips, and something else at right, probably to represent French or Norman extraction?); Blackstone for his legal profession; the landscape medallions presumably for interests in yachting, and duck hunting; at the top insignia of his successive military ranks (to Brigadier General); the musket, music, and tack presumably to show his interests in music, shooting, and riding. The three medals below his motto are the Légion d'Honneur, the Distinguished Service Medal, and the insignia of a member of the Society of the Cincinnati. (So far as I can see from his own biographical sketches Delafield did not actually serve in France in the War or after, but I have read that the Légion was distributed rather widely to Americans following the Peace, and Delafield was undeniably well connected.) The toadstools I can only guess at!