Three Daguerreotypes sat in the box with a make-up compact, a pill box, and little cut-glass dish, and two sandwich bags filled mostly with coins from Vichy France. The box was addressed to 'Nathaniel Taylor, Historian', and sent by my wife's aunt.
I had never looked seriously into old cased photographs, though in my own family, along with about a century of memorabilia, there are a few miniatures in cases whose identities are no longer known (including an interesting mourning brooch, on which I will write later). With these Harmon family images, though, an assiduous great-great-aunt (Miss Hazel Harmon, quite a character) had kept them safe and labeled them, insuring their recognition into a third century.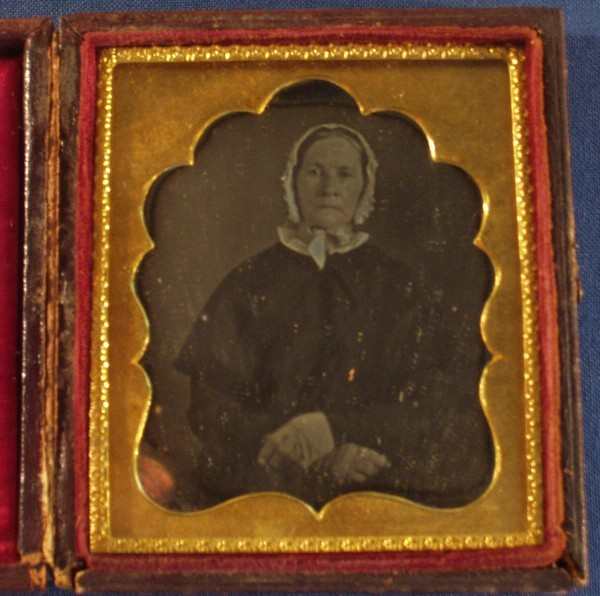 Hannah (Beecher) Hotchkiss (1789-1854) [=Hannah6 Beecher (Benjamin5, Isaac4, John3, Isaac2-1)] had been widowed for some years when she sat for this photo, around 1850. She sits with a certain dourness (perhaps the product of a mixture of physical discomfort and skepticism of this odd fad). Her bonnet and gloves are proper and unadorned, and hark back to her eighteenth-century childhood as much as to appropriate going-out wear for the 1840s.
Her granddaughter's father-in-law, James Hezron Harmon (1821-95) may have posed for this at the time of his wedding, 1844, in West Springfield, Massachusetts: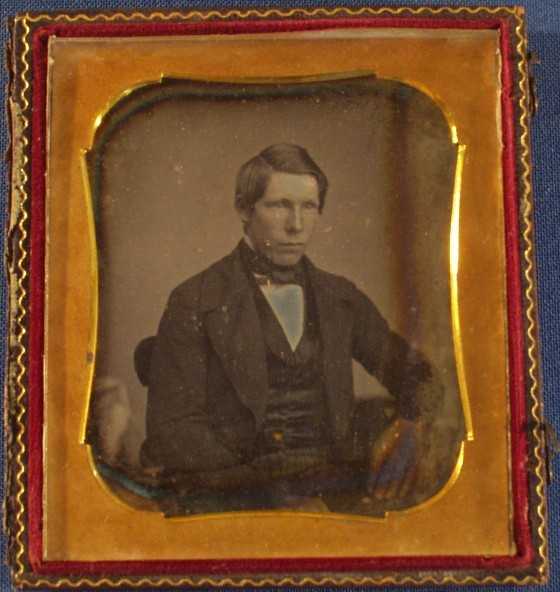 His son, John Milton Harmon (1854-1934), stood for a Daguerreotype only a few years later (1855 or 1856), in the arms of one identified only as a 'hired man':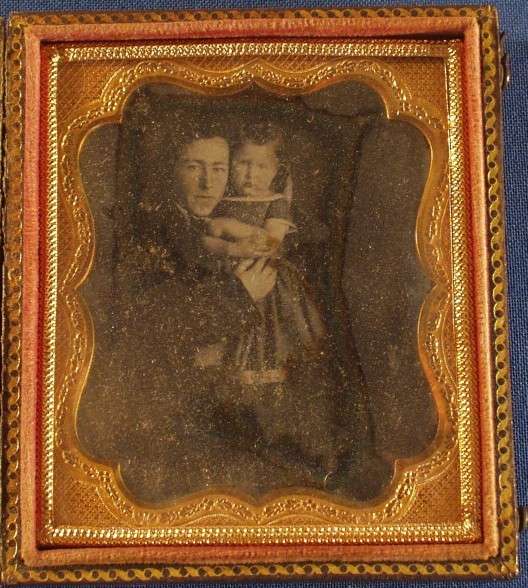 Another item in this box, the cut-glass dish, is carefully labeled as: 'Preserves dish, Rosanna H(otchkiss) Dudley', so it links her mother, Hannah Beecher, to her daughter's future husband, the Harmon toddler above. The preserves-dish provokes searching curiosity about the household of this mid nineteenth-century Connecticut farm. The make-up compact, pill-box and of course the Vichy coins are unexplained twentieth-century detritus, but nonetheless will keep their place, for the moment, in this slice of my wife's ancestral past.
We speak of putting flesh on the bones of a pedigree, or finding out more about our ancestors. This is done all too infrequently, and not creatively enough. Laurel Ulrich and others have helped us to see through intermediary objects to experience the lives our ancestors led. But it is rarer that we get to look directly on their faces eight generations back (this is the distance from Hannah Beecher to our children). Will your descendants eight generations from now be able to see your face?