Quite by accident I found it. I was scanning my local branch library for editions of Defoe's Robinson Crusoe when I saw The Last Days of Dogtown by Anita Diamant (Simon & Schuster, 2006). Pulling it off the shelf doubtfully (there are many Dogtowns) I was surprised to see that it was indeed about my Dogtown, the upland village in Gloucester, Massachusetts, where some of my grandfather's ancestors had lived in the 18th and early 19th centuries.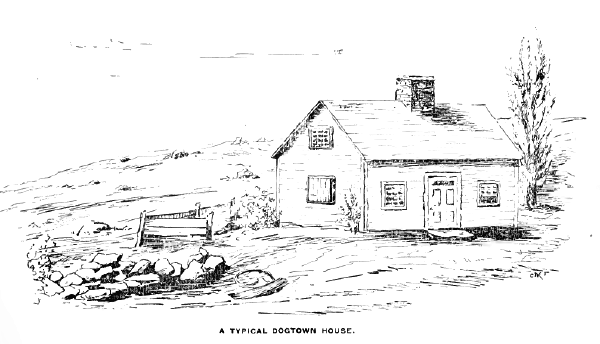 Dogtown was wholly abandoned by about 1840, and by the end of the nineteenth century was subjected to nostalgic tale-spinning, notably by Charles E. Mann in In the Heart of Cape Ann, or the Story of Dogtown (1896) [on archive.org]. Mann depicted the last inhabitants as curmudgeons and simpletons—and his printer seemed to have some extra engravings of witches lying around —
— which somewhat distorted Mann's bucolic elegy but may have got it a few more readers. Anita Diamant, who may well have been drawn to the flying witch engravings, took the liberty to transform the (female) denizens into herbal healers and righteous social transgressors, types familiar to readers of late 20th-century feminist fiction. The men didn't fare so well, least of all my ancestor John Morgan Stanwood (1774-1852), who is made out to be a drunk, whoremonger, sodomite, coward and sadist; she also shaved about twenty years off his life—perhaps an unintentional literary Bobbitting.
Not that I take it personally. Perhaps Ms. Diamant felt he could receive such treatment since earlier Stanwood had been erroneously lionized as a Revolutionary hero and casualty, in the elegaic poem "Morgan Stanwood, Cape Ann, 1775," printed in the Atlantic Monthly (June, 1874, pp. 712-14). Yet the poetic praise was wholly undeserved—Stanwood was confused in this poem with his father-in-law, Peter Lurvey, also of Dogtown, who really was killed in a coastal skirmish with the crew of HMS Falcon in August of 1775, while Stanwood was just an infant.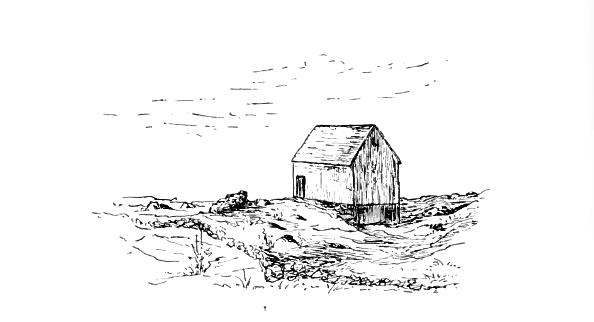 I don't begrudge Diamant her license to play with the real people of Dogtown—Mann certainly opened the path of romanticization, though he gave tantalizing hints of the way the old locals, still living in Riverdale, Annisquam, Lanesville or Rockport in 1896, remembered their elders at Dogtown. But as Mann was content to weave romance of his own making into the memories of his interlocutors, so we must be content with the ways in which he, and now Ms. Diamant, have taken the memories and created something new.
To close, here is photo of a real Dogtowner: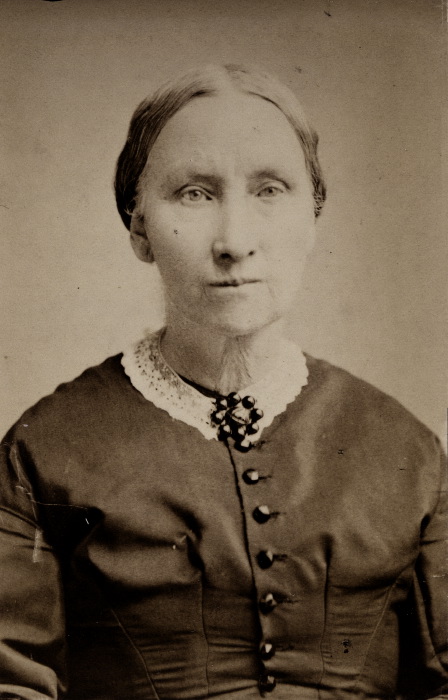 She is Ruth Morgan Stanwood, born (surely in Dogtown) in 1812, daughter of John Morgan Stanwood and granddaughter of Peter Lurvey, Dogtown's revolutionary casualty. Ruth was married first to Lazarus Lane and then to Nathaniel Thurston, having several children by both husbands. She died in 1887. She is my ancestor on the Lane side; this magnificent photo was shared with me by a descendant on the Thurston side, Jennifer Dow of Bradford, New Hampshire.