Last fall I got a message from Sor María Jesús, of the Dominican convent of Santo Domingo el Real in Toledo, noting an error in one of my earlier webpages on Sancha de Ayala, where I had confused the two convents, the convent of Poor Clares, "Santa Isabel de los Reyes," which is constructed in the palace of Sancha's father Diego Gómez, and Santo Domingo el Real, which is where Sancha's sister, Doña Teresa de Ayala, was prioress. Sor María Jesús gently corrected my caption identifying the wrong convent, for the beautiful carved tomb slab of Doña Teresa, when I included a photograph (from a 1980 book) in my little essay on Sancha de Ayala's literary heritage. Now Sor María Jesús has sent me another, much sharper photograph of the tomb of Doña Teresa, which I include here (click for larger image):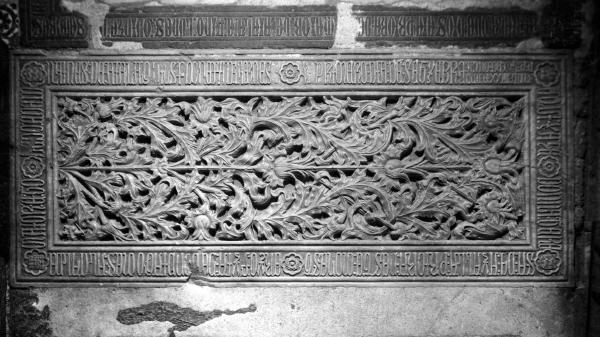 Sor María Jesús has also let me know about an interesting artifact, a fourteenth-century prayer book now belonging to the convent which represents devotional use specific to both Toledo and England, with saints pertaining to each. Although the prayers and psalms are Latin, the book includes devotional notes in Anglo-Norman French and therefore was probably made in England but for someone with Toledan connections. It is possible — though there is no explicit documentation or indication in the book itself to show this — that it could have come from Teresa's sister, Doña Sancha de Ayala, Lady Blount, or at least some other member of the close-knit circle of John of Gaunt following his adventures in Spain. The first page (which bears the sort of damage typical of opening leaves of much-used medieval manuscripts) bears Psalm 1 (Beatus vir qui non abiit in consilio impiorum), preceded by liturgical instructions in Anglo-Norman French: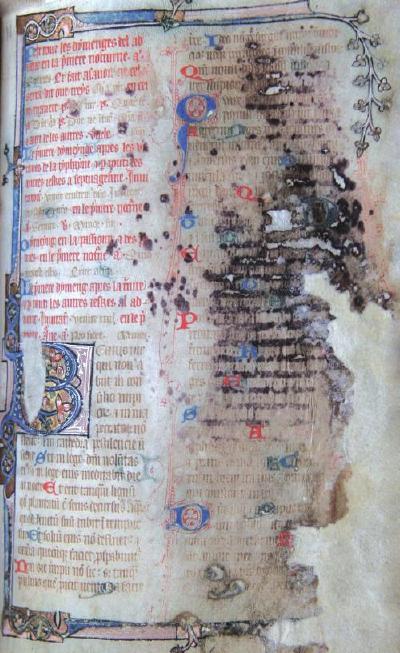 This image comes from a recent study of the manuscript by Bernardo Fueyo Suárez, OP, El breviarium portatile de Santo Domingo el Real de Toledo (Toledo, 2008). It may not be possible to ascertain the precise origin of this manuscript, but the likelihood that it came from Sancha's circle, and the possibility that it might have been hers, is intriguing.