On Tuesday afternoon I had the chance to inspect the tomb of Sancha de Ayala's brother, now in the Museu Frederic Marès in Barcelona. A very fine alabaster effigy, like that of his uncle Pero Lopes de Ayala and those of his grandparents Fernán Pérez de Ayala and Elvira de Ceballos, at Quejana (Alava).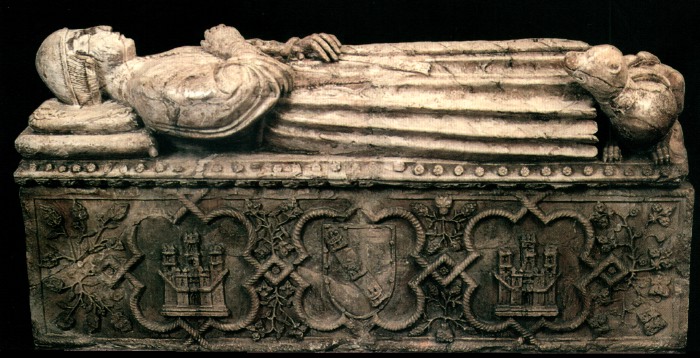 The triple-towered castles of his paternal arms flank the arms of the Orden de la Banda on the visible side of the tomb. The inscription was preserved as well, and reads:
AQUI : YAZ : PERO : SUARES : ALC
ALDE : MAYOR : DE : TOLEDO : QUE
DIOS : PDONE : FIIO : DE : DON : DIEGO : G
OMEZ : ALCALDE : MAYOR : DE : TO
LEDO : QUE : DIOS : PDONE : E : DE : DO
NAN : YNES : DE : AYALA : E : FINO
EN : SERVICIO : DEL : REY : DON : IU
AN : EN : LA : BATALLA : DE : TRON
COSO : MARTES : XXVIII : DIAS : DE
L : MES : DE : MAYO : ANO : DEL : NUE
STRO : SALVADOR : IHI : XPO : DE : MIL
E : CCC : E : LXXX : E : CINCO : ANOS
Unfortunately (our camera having been broken in a ditch beside a wheat field in the marshlands of Narbonne) I could not photograph the inscription, which is a wall-mounted slab separate from the sarcophagus.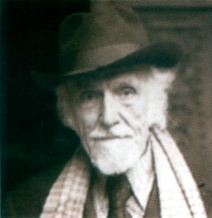 The Museu Frederic Marès is an astonishing Victorian-style col.lecció particular, not a national or regional collection handed down. Marès (1893-1991) was himself a sculptor; his cabinet consists of an exquisite collection of medieval sculpture collected over a lifetime, plus a host of collections of the detritus — watches, fans, dolls, pipes, seashells, nativity figurines — of the civilized life.
I realize it's time to return to Sancha's ancestry and post more of what I have found. Stay tuned here on the blog, as well as on Sancha's own pages on this site. So far there's only one page up, on her literary heritage.