[Part of a series of posts and pages dedicated to Sancha de Ayala]
The palace of Diego Gómez, one of the magnificent Mudejar-Gothic palaces in the old heart of the city of Toledo, long ago became the Franciscan convent of Santa Isabel de los Reyes; but it has only recently (2005) become a "convent-museum" with increased public access. His daughter Sancha de Ayala has a certain genealogical cachet as a 'gateway' ancestor linking medieval Spanish ancestry to numerous Anglo-American descendants (along with Eleanor of Castile or the daughters of Pedro the Cruel, but not too many others). Daughter of a well-connected minor noble family caught in the web of civil strife in the reign of Pedro the Cruel, and further caught in the web of the English interventions in Spanish affairs, she went to England as lady-in-waiting to a queen-in-exile, Constance, wife of John of Gaunt, joining the minor English nobility with her marriage to Sir Walter Blount (a trusted follower of Gaunt, who had diplomatic and military experience in Spain).
Sancha's life prior to her migration to England is difficult to flesh out for those who have little familiarity with Spain (or Spanish) or medieval lives more generally. But she is relatively unusual—and unusually accessible—because her paternal and maternal family houses are preserved in essentially medieval condition; they would be recognizable to her if she were to visit them now. Her mother's ancestral compound we'll look at later—it is a castle in the countryside of Alava, near Bilbao. Her father's palace is in the heart of the old city of Toledo. Here is one of the exterior doors, built by Sancha's brother Pedro Suárez de Toledo (and bearing his—and her—paternal and maternal arms):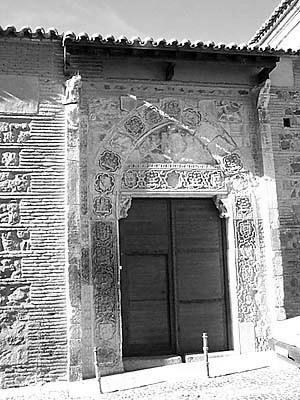 The palace was made into a convent by Pedro Suarez's descendant María Suárez de Toledo, known as 'Sor María la Pobre'. But it had its own chapel for generations previously, which is now (or was enlarged to be) the convent church. In it, among other tombs, is the tomb of Sancha's male-line great-grandfather, Fernán Gómez (picture from Balbina Martínez Caviro, Mudéjar toledano: palacios y conventos [Madrid, 1980]):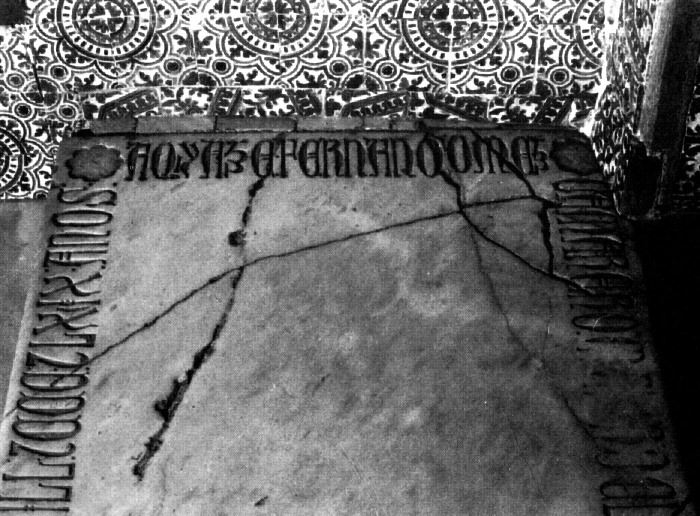 AQUI YAZE FERNAN GOMEZ CAMARERO MAIOR
DEL REY DON FERNANDO QUE DIOS PERDONE
FIIO DE DON GOMEZ & FINO XXIII DIAS DE
OCTUBRE ERA DE MILL & CCC & LXIX AÑOS
Here lies Fernán Gómez, grand chamberlain of
lord King Fernando [IV], whom God pardon, and
son of Don Gómez; he died the 23d of October in
the Era 1369 [i.e. AD 1331]
The convent was dedicated to Santa Isabel, and because of the patronage of Fernando & Isabel (Fernando V was related to Sor María since he also descended from Pedro Suárez, Sancha's brother), became known as 'Santa Isabel de los Reyes' [i.e., de los Reyes Catolicos]. Much of the architecture of the palace and chapel, built in the 14th century and rebuilt and expanded in the 15th and 16th, exemplifies Mudejar style, the style influenced by Islamic examples, and probably largely created by Islamic craftsmen, in and around Toledo. Much information on this particular palace is found in the book by Balbina M. Caviro, Mudéjar toledano: palacios y conventos (Madrid, 1980).
See also my page 'The Literary Heritage of Sancha de Ayala', the first of a planned series of 'Sancha de Ayala' pages on my website, which will be indexed at the 'Sancha de Ayala Page'.