I pull into Goshen Methodist Church, outside Beaver Dam, in Ohio County, Kentucky. It's the first desination on a whirlwind, one-day excursion to the home county of my great-grandfather, who left about a hundred and ten years ago to find a better life in the big city—Louisville, sixty-five miles away.
After living in Kentucky for a year—busily teaching and with a new baby to boot—we were due to leave in a month, but I was finally able to book a day's pilgrimage to the Western part of the state. Careful research had resulted in highlighted cemetery maps, transcriptions, and an annotated pedigree. Armed with a 35mm camera, I was to do the next best thing to meeting my ancestors: finding where they lie. I had, of course, wimped out of any opportunity to visit with any living relatives. I have no close cousins left in Ohio County, and almost all genealogically-inclined distant cousins with whom I had corresponded were scattered throughout the country.
Goshen Methodist was a good first stop because it was easy to find and had a high yield of ancestors. No, I answered a couple of guys out back as I pulled into the driveway, I was not there to help work on the church roof. If I had not such an ambitious pilgrimage in so little time, I might have overcome my Yankee embarrasment and stayed to help. At any rate, I soon found many Barnses, Hockers, and Millers (David and Dorcas (Holliday) Miller on fine early slate stones). My great-great-grandfather John Hiram Barnes, who had started a banking dynasty, had a prominent granite extravaganza. I knew I would find three of my great-grandfather's siblings here, including two whose names I had not known: they were listed in their mother's obituary as unnamed extras, having died young. A transcript had suggested the probabilities, but I felt a sense of discovery when I found flat marble slabs set into the grass: Horace P. Taylor, and then, more worn, his older sister, Lulah, born 1860, died 1861.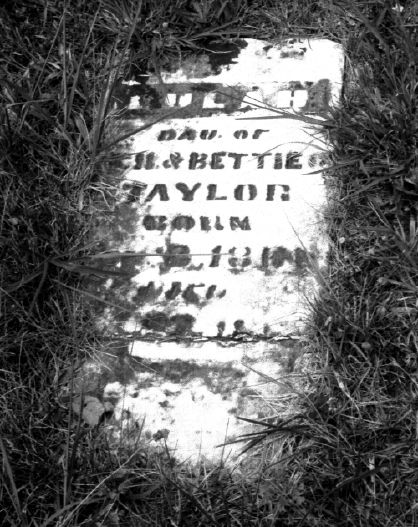 Other burying grounds followed. The 'Old Liberty Churchyard' (to distinguish it from the new, some hundreds of yards away among cornfields), for g-g-g-grandparents Blackston and Elizabeth (Austin) Taylor; the Oakwood Cemetery (a more modern park-cemetery laid out in Hartford at the end of the nineteenth century, where I was lucky to find my great-great-grandfather, since he was in a group of stones left out of the published transcription), the 'Milton Taylor' cemetery, where the earliest of my Taylors in that county are buried, and two cemeteries on private ground. One was the Austin farm, a plot now occupying the side yard of a suburban homestead. The other was Richard Taylor's farmstead.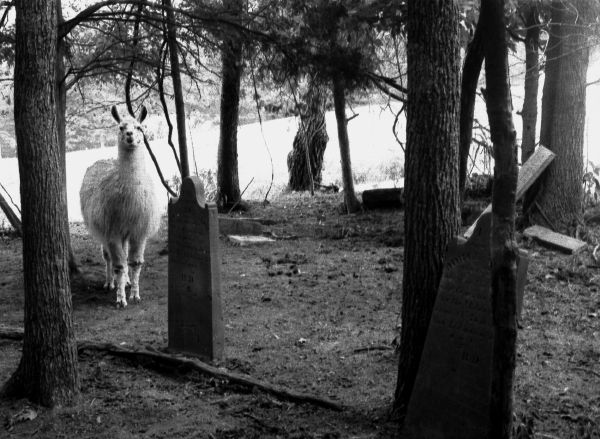 There I encountered llamas, along with the owners of the farm. The humans were, understandably, ambivalent about descendants' interest in the stones jumbled among pines at the top of one of their pastures. But the llamas seemed unfazed by the fleeting extra human presence. I was not spat upon, at least.