[Part of a series of posts and pages dedicated to Sancha de Ayala]
Here we continue to look at the palace of the parents of Sancha de Ayala, which has since become the Franciscan convent of Santa Isabel de los Reyes, Toledo. The convent's 'sala capitular' (chapter, or meeting room) was once a formal room of the palace with an elaborate stone carved frieze, with an inscription, running around the upper crown molding and framing the elaborate Mudejar arches. The room was subsequently renovated and one wall of the frieze is lost.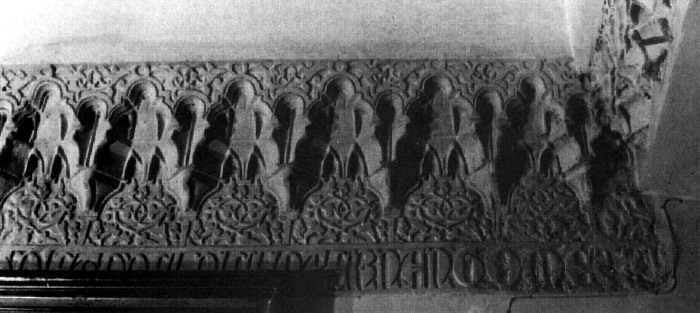 (As before, these pictures are all drawn from Balbina Martínez Caviro, Mudéjar toledano: palacios y conventos [Madrid, 1980].) The frieze was made in 1361, by Sancha de Ayala's father, Diego Gómez, and the surviving part reads:
[…]DO QUE DIOS PERDONE E FURON ACAVADAS EN FIN DEL MES DE
DEZIMBRE EN LA ERA DE MIL ET TRESINTOS ET NOVAENTA ET NUEVE
ANNOS : ET DIOS . . . CUMPLA CON ONORA . . .DO
ESTAS COSAS MANDO FAZER DIEGO GOMES ALCALDE MAYOR DE TOLEDO ET
NOTARIO MAYOR DE LA CIUDAD DE TOLEDO POR EL REY DON PEDRO QUE
DIOS MANTENGA FIIO DE GOMES PERES ALGUASIL MAYOR DE TOLEDO ET
NIETO DEL DICHO FERNAN GOMES.
. . . whom may God pardon; and it was made at the end of the month of
december in the Era One Thousand Three Hundred Ninety Nine
Years [i.e. 1361 AD]; and may God fill . . . with honor.
These things were made by order of Diego Gomez, Alcalde Mayor of Toledo
and Notario Mayor of the City of Toledo for the King Don Pedro, whom God
preserve, and son of Gomez Perez, Alguacil Mayor of Toledo, and grandson
of the said Fernan Gomez.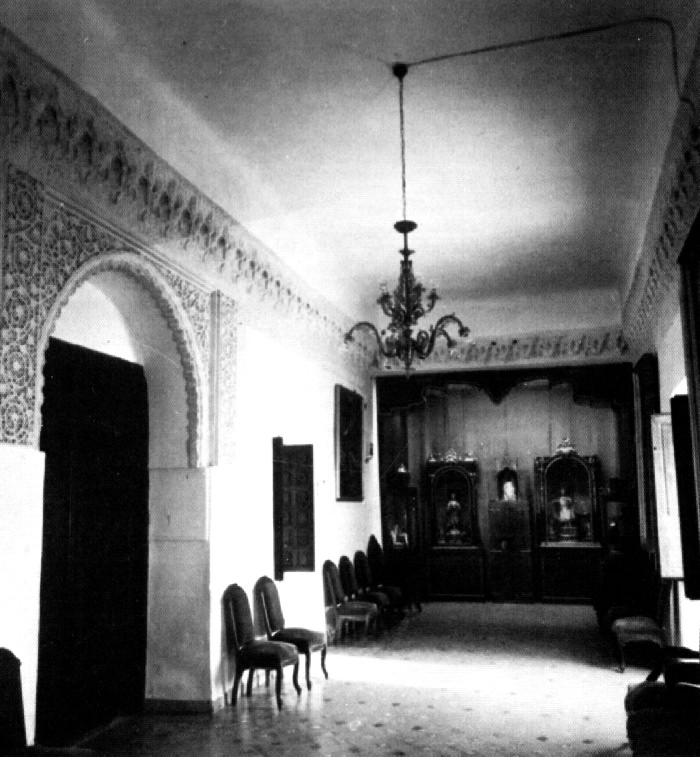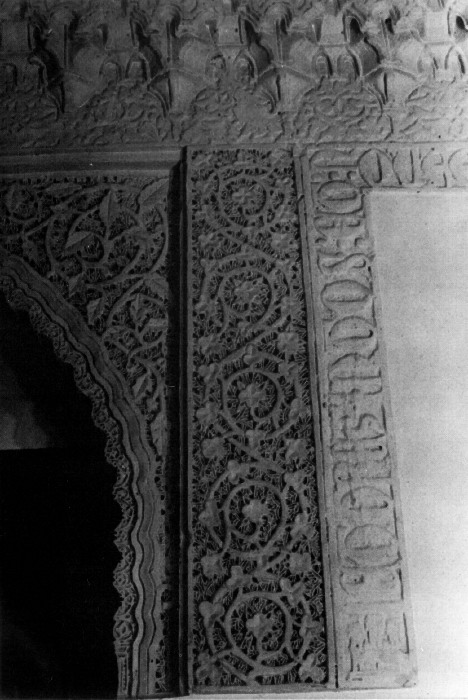 Beautiful workmanship, and interesting that it adds a three-generation genealogy of Sancha's father into the bargain.