The first spoils of the Revolutionary War are surely the handsome pair of Murdoch pistols long attributed to Major John Pitcairn, who is said to have lost them on April 19 1775 during the harrowing return from Concord to Boston (they were variously said to have been in the baggage train, or on his horse). Despite their two centuries of iconic status as the first revolutionary spoils, it has only recently been pointed out that the crest engraved on the pistols did not match that of Pitcairn's family. And only yesterday did historical blogger J. L. Bell think to google a blazon of the crest —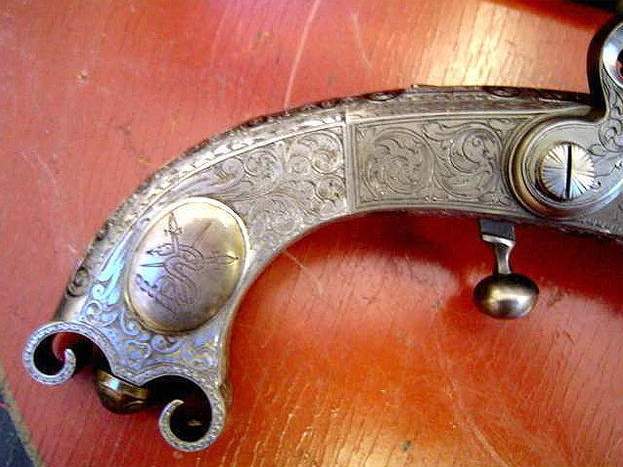 [actually a detail from a reproduction, on sale here]
— and identify it as belonging to a Crosbie family [probably here, which one can find by googling "three swords" with "snake" and "crest"); Bell noticed that indeed there was an officer named Crosbie present in the Lexington-Concord foray: Capt. William Crosbie of the grenadier company in the 38th Regiment of Foot.
Other references make it clear that this distinctive crest was employed by both the main branches of the Anglo-Irish Crosbie family, descended from two sons of John Crosbie, Bishop of Ardfert (d. 1621). One son was Walter Crosbie, who became a Nova Scotia Baronet in 1630 (Crosbie of Maryborough). The other was David Crosbie of Ardfert, whose senior male-line descendants became peers as Lord Branden, Viscount Crosbie of Ardfert, and Earl of Glandore—though these creations were short lived. Both branches of the family produced many British officers, and both branches of the family have untraced male lines from younger sons, noted briefly in pages of Burke's and elsewhere.
Capt. Crosbie's career was built on strong connections both social and military. He was probably a relatively young man in 1775. He was an aide-de-camp to General Clinton in 1778, and a Lieutenant-Colonel and Barrack-Master-General at New York in 1781. In 1790, as Lieutenant-Colonel of the 22d Foot, he made his will. In 1790 he also sat in Parliament as member for Newark-upon-Trent, Nottinghamshire. In 1793 he raised the (new) 89th Regiment in Ireland and was its colonel, but in 1795, with the rank of Major General, he returned to command the 22d Foot, which he held until his death on 16 June 1798, not two weeks after the execution of his (apparent) cousin, Sir Edward William Crosbie, Bart. (of Maryborough), on suspicion of his sympathy with the United Irish rising of 1798.
William Crosbie's will confirms his position in an Anglo-Irish gentry family of some standing and significant connections, though does not prove his ancestry in the known family of Crosbie baronets and peers who possessed the sword and snake crest. His will showed a man with considerable wealth but no fixed abode; he was also unmarried. His principal heir was his elder brother General Charles Crosbie, colonel of the 53d Foot, who died in 1807. Charles's career had begun back in 1759, suggesting he was older than William. Another brother, John, was a planter in Antigua. A sister, Elizabeth, was widow of Sir James Lockhart-Ross, likely the Baronet who had died in 1760. William Crosbie left his entire estate to be invested in real estate and paid out as annuities to his sisters and brother Charles, with the residue to go to Charles' son and heir, John Gustavus Crosbie (1765-1843; later General Sir John Gustavus Crosbie, GCH). But in 1795 William Crosbie directed, in a codicil, that the bulk of his estate go to his bastard son, Charles Carmichael Carr, son of Crosbie's "female friend" Mrs. Margaret Carmichael of Duke Street, Marylebone. The codicil was challenged on a technicality but the legacy to the bastard was upheld.
Despite the disdain one finds in Patrick O'Brian novels towards career army officers and Anglo-Irish gentry, I suspect Crosbie—bachelor and man-about-town—might have been a more interesting dinner companion than the earnest and unlucky Scottish minister's son who fell at Bunker Hill. But at any rate Bell's identification of Crosbie's crest constitutes a significant revision to our narrative and artifactual memory of the "glorious morning for America."